| | |
| --- | --- |
| Name | Oʻzbek­iston Respub­likasi |
| Pop­u­la­tion | 32,979,000 (2017 esti­mate) |
| Cap­i­tal city | Tashkent |
| Offi­cial lan­guage | Uzbek (offi­cial), Russ­ian, Tajik |
| Reli­gions | Islam (88%), East­ern Ortho­dox (9%), oth­er |
| Life expectan­cy | 68.45 years |
| Pop­u­la­tion growth | 1.7% |
| GDP | $67.22 bil­lion (2016) |
| HDI | 0.701 (105th) |
| Gini | 0.45 |
| Pres­i­dent | Shavkat Mirziy­oyev |
History
Bor­der­ing the oth­er four Cen­tral Asian "Stans", Uzbek­istan has a rich and colour­ful his­to­ry of move­ment, con­quest, and resis­tance. After Alexan­der The Great con­quered the region in fourth cen­tu­ry BC, Uzbek­istan wit­nessed sev­er­al dis­tinct phas­es of exter­nal influ­ence. Tur­kic nomads arrived in the sixth cen­tu­ry AD and by the eight cen­tu­ry Islam was intro­duced by the Arabs. Per­haps most famous­ly the Mon­gol Empire, under Genghis Khan, con­sumed the region in the thir­teenth cen­tu­ry. With the steppes unit­ed, trade, com­mu­ni­ca­tion and even dis­eases spread mas­sive­ly in the fol­low­ing cen­turies. Uzbekistan's major cities, such as Bukhara, reaped the ben­e­fit of rein­vig­o­rat­ed East-West trade links.
The Mon­gols and the Silk Road put the coun­try firm­ly on the map, but it wasn't until the ear­ly six­teenth cen­tu­ry was invad­ed by the Uzbek. Under the lead­er­ship of Abdul­lah, the empire took in parts of Afghanistan and Per­sia, but soon broke down. That lack of uni­ty left the Uzbek­istani prin­ci­pal­i­ties at the mer­cy of the expand­ing Russ­ian Empire in the lat­ter half of the nine­teenth cen­tu­ry. In the wake of the Russ­ian Rev­o­lu­tion, the Uzbek frac­tured between Sovi­et sup­port­ers and the Bas­machi, with the lat­ter even­tu­al­ly suc­cumb­ing to Stal­in­ist poli­cies. Col­lec­tivi­sa­tion, indus­tri­al­i­sa­tion, and indi­geni­sa­tion were all pur­sued by the Uzbek Sovi­et Social­ist Repub­lic dur­ing the twen­ti­eth cen­tu­ry. Sovi­et indus­try shift­ed from vul­ner­a­ble posi­tions in West­ern Rus­sia to Uzbek­istan dur­ing WWII, whilst in the post-war years a dras­tic dri­ve toward mass pro­duc­tion of cot­ton led to sev­er­al major eco­log­i­cal dis­as­ters. With the col­lapse of Com­mu­nism in 1989, Uzbek­istan even­tu­al­ly secured its inde­pen­dence in 1991, after sev­er­al cen­turies of Russ­ian rule.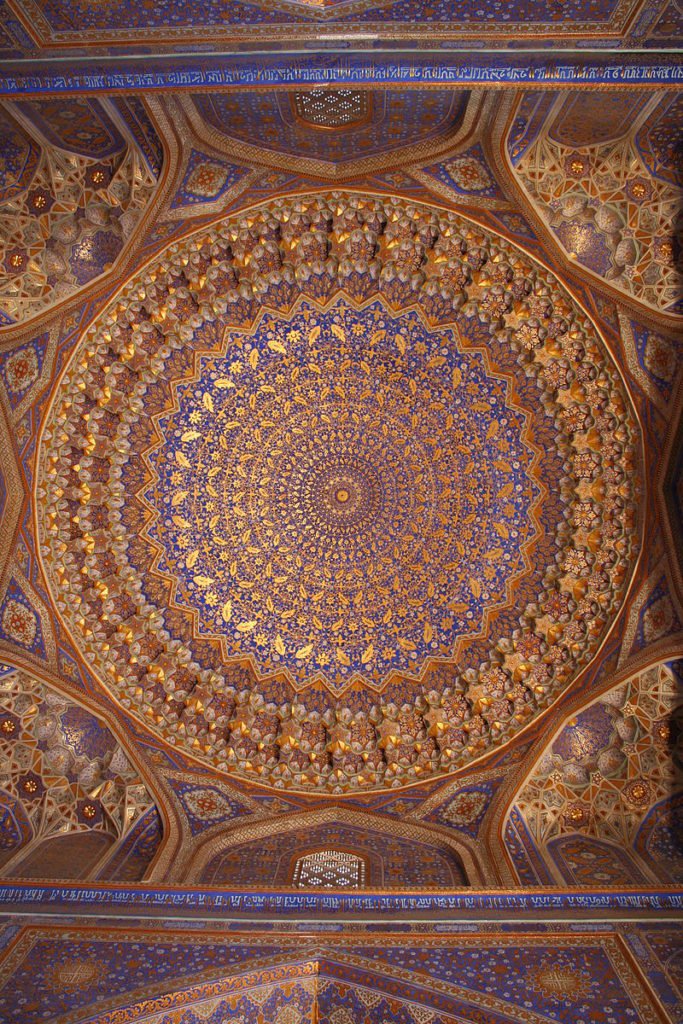 Economy
Uzbek­istan is cur­rent­ly wit­ness­ing a momen­tous peri­od eco­nom­ic growth. Accord­ing to the World Bank, Uzbekistan's econ­o­my is set to grow faster than any Cen­tral Asian or East­ern Euro­pean nation between now and 2019. State invest­ment in gas, gold and cot­ton pro­duc­tion has cre­at­ed a boom­ing export econ­o­my. The future for­tunes of exports are large­ly tied to the per­for­mance the Chi­nese and Russ­ian economies, and their gen­er­al down­turn has con­cerned Uzbek­istani pol­i­cy mak­ers. Yet even with that con­sid­ered, a strong small busi­ness sec­tor has lift­ed large sec­tions of the pop­u­la­tion out of pover­ty and into employ­ment, a sign that the country's econ­o­my is shift­ing toward a greater reliance on inter­nal rather than exter­nal mar­kets.
Food
The meal is a cen­tral pil­lar of Uzbek cul­ture. Tan­door baked bread (tandir) holds a sacred place at the meal, and can only be torn by hand and nev­er thrown out. Palov (plov or pilaf) is per­haps the most famous dish in the region—and across Cen­tral Asia. Often con­sid­ered to be the old­est dish in Uzbek cui­sine and it is believed Alexan­der the Great was served palov after cap­tur­ing Marakan­da. Cooked in a large pot, palov is a rice based dish cooked with lamb, raisins, and entire bulbs of gar­lic, sea­soned with turmer­ic, corian­der, and cumin.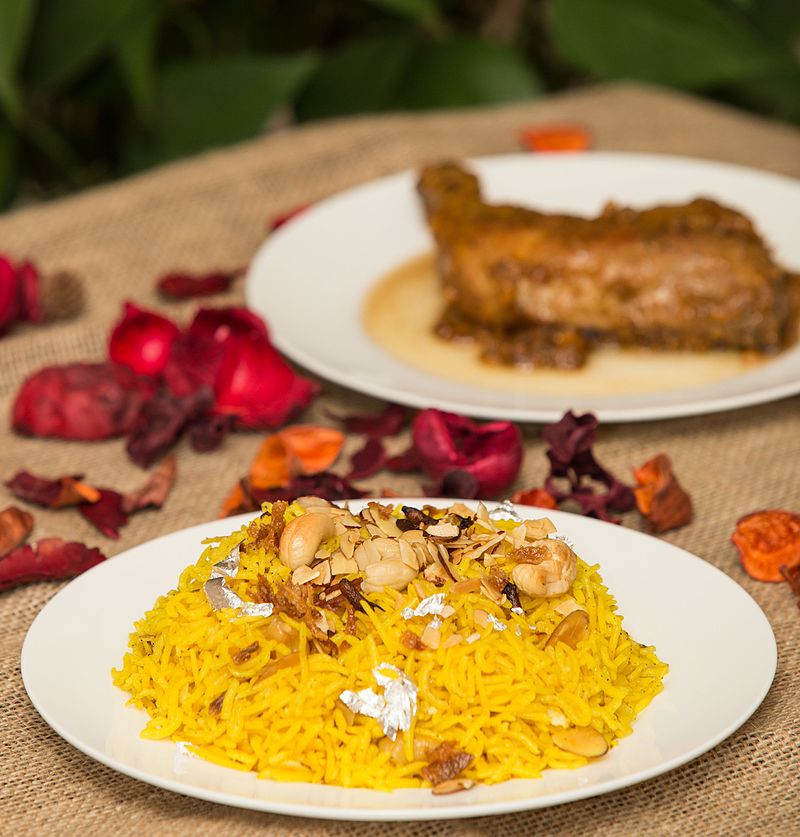 Music
Music is omnipresent in Uzbek soci­ety. Whis­pers of the ancients can be heard in tra­di­tion­al recitals at funer­als and com­mem­o­ra­tive cer­e­monies, dis­tinct from Euro­pean music in its mono­phon­ic tex­ture. Uzbek­istan boasts some incred­i­bly influ­en­tial musi­cians in the region. Ari Babakhanov is amongst the most famous. Known for his immense con­tri­bu­tion to tra­di­tion­al Bukhara music, he also tran­scribed and not­ed down exten­sive amounts of Per­sian poet­ry and pop­u­lar Uzbek and Tajik works. Today, Uzbek­istan has a diverse music scene, with rock and rap the most pop­u­lar forms.
Customs
Close friends or fam­i­ly of the same sex greet each oth­er with a kiss on both cheeks. At a meal, guests are expect­ed to take a turn as toast­mas­ter, prais­ing the host for wel­com­ing them into their home. Fam­i­ly and com­mu­ni­ty is of immense val­ue in Uzbek­istan. Com­mu­ni­ties are gov­erned by the mahallya, a self-gov­ern­ing unit of neigh­bours and fam­i­lies sup­port­ing one anoth­er. Most girls mar­ry before the age of 21, and wed­dings involve the entire com­mu­ni­ty; hun­dreds of guests are typ­i­cal­ly invit­ed.
Politics
2016 wit­nessed the elec­tion of a new pres­i­dent, Shavkat Mirziy­oyev in Uzbek­istan. Pri­or to Mirziyoyev's elec­tion, the nation had been ruled by Islam Kari­mov, a deeply con­tro­ver­sial who was con­sis­tent­ly crit­i­cised by the inter­na­tion­al com­mu­ni­ty for exten­sive human rights abus­es in the coun­try. For exam­ple, the Unit­ed Nations has found tor­ture to be insti­tu­tion­alised in the coun­try. Press cen­sor­ship remains a major issue and many west­ern news out­lets are not allowed to func­tion in the coun­try. How­ev­er, whilst human rights abus­es remain a key issue, the gov­ern­ment has tak­en steps to erad­i­cate human traf­fick­ing and cul­ti­va­tion of opi­um for export pur­pos­es.