| | |
| --- | --- |
| Name | Түркменистан |
| Pop­u­la­tion | 5,662,544 |
| Cap­i­tal city | Ash­ga­bat |
| Offi­cial lan­guage | Turk­men (offi­cial), Russ­ian |
| Reli­gions | Islam (89%), East­ern Ortho­dox (9%), oth­er |
| Life expectan­cy | 65.74 years |
| Pop­u­la­tion growth | 1.7% |
| GDP | $36.18 bil­lion (2016) |
| HDI | 0.692 (2015) (111th) |
| Gini | 0.41 |
| Pres­i­dent | Gur­ban­gu­ly Berdimuhame­dow |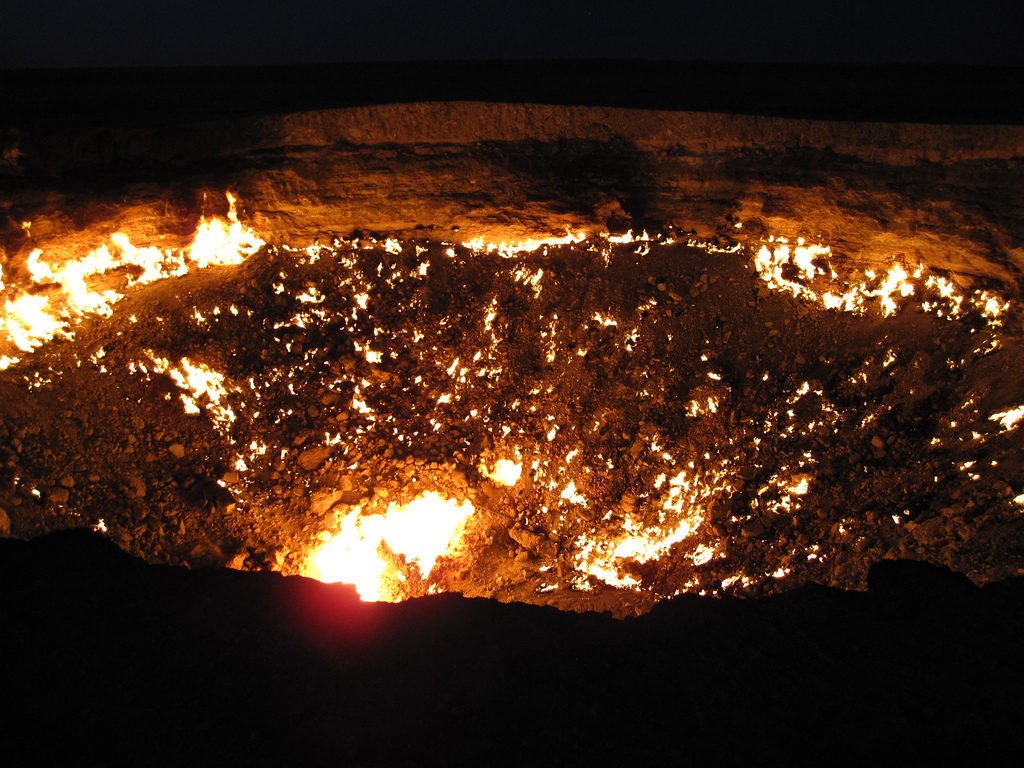 History
Bor­dered by Kaza­khstan, Uzbek­istan, Afghanistan, Iran, and the Caspi­an sea, present-day Turk­menistan has been at a cross­roads of world civ­i­liza­tions for a mil­len­ni­um. The city of Merv was one of the great Islam­ic cities, and until the fif­teenth cen­tu­ry was an impor­tant stop on the Silk Road, a trad­ing route that con­nect­ed Europe, Asia, and Africa. This region of cul­tur­al milieu was fur­ther empha­sised by a his­to­ry of dif­fer­ent rulers, includ­ing Alexan­der the Great's Per­sians, Islam­ic rulers, Turks, Mon­gols, and final­ly Rus­sians in the eigh­teenth cen­tu­ry. Despite fig­ur­ing promi­nent­ly among regions opposed to Bol­she­vism, Turk­menistan became a Sovi­et repub­lic in 1924 and only gained inde­pen­dence at the break-up of the USSR in 1991. A recent his­to­ry of Russ­ian rule has meant that like oth­er cen­tral Asian states, Russ­ian lan­guage has remained the Lin­gua Fran­ca post-inde­pen­dence.
Culture
Although there have been attempts to homogenise Turk­men iden­ti­ty since the 1930s, cul­ture still has dis­tinct unique clan-based char­ac­ter­is­tics, each with their own dialect and style of dress. As a nation, Turkmenistan's most famed cul­tur­al export is its Turk­men rugs (often known as Bukhara rugs in the rest of the world). Through­out Turk­men mate­r­i­al cul­ture, clan dif­fer­ences can be observed in the styles and colours employed, most obvi­ous­ly in cloth­ing, jew­el­ry, and domes­tic dec­o­ra­tions. Anoth­er dis­tinc­tive man­i­fes­ta­tion of Turk­men cul­ture are the large black sheep­skin 'Telpek' hats often worn by men, some­what resem­bling an afro hair­style. Although the nation­al cui­sine of Turk­menistan pos­sess­es strong con­ti­nu­ity with the rest of Cen­tral Asia, one unique ele­ment is the ele­vat­ed posi­tion of mel­ons; once the major sup­pli­er to the Sovi­et Union, mel­ons are a sub­ject of nation­al pride, and are com­mem­o­rat­ed dur­ing the Mel­on Day hol­i­day.
Politics
Despite elec­tions tak­ing place in 2012 and 2017, it is wide­ly agreed that Turk­menistan is an auto­crat­ic sin­gle par­ty pres­i­den­tial repub­lic, demon­strat­ed by cur­rent pres­i­dent Berdimuhamedow's abil­i­ty to win over 97% of the vote. A con­sti­tu­tion­al amend­ment in 2016 allows life­time pres­i­den­cy. Human Rights Watch have des­ig­nat­ed Turk­menistan as 'among the world's most repres­sive and closed coun­tries', where the 'pres­i­dent and his asso­ciates have total con­trol over all aspects of pub­lic life'. This includes access to infor­ma­tion, where the state con­trols all print and elec­tron­ic media, and where jour­nal­ists who attempt to pub­lish mate­r­i­al con­trary to gov­ern­ment sen­ti­ment are at risk of impris­on­ment and/or vio­lence. Polit­i­cal dis­si­dents are com­mon­ly incar­cer­at­ed or forced into exile, and even in exile, there is risk of gov­ern­ment reprisals for con­tin­ued open gov­ern­ment dis­sent. A supreme leg­isla­tive body known as the Halk Masla­haty, com­prised of up to 2,500 del­e­gates (some of whom are elect­ed by pop­u­lar vote) is entire­ly made up of mem­bers of the Demo­c­ra­t­ic Par­ty of Turk­menistan, and is chaired by the pres­i­dent for a life term.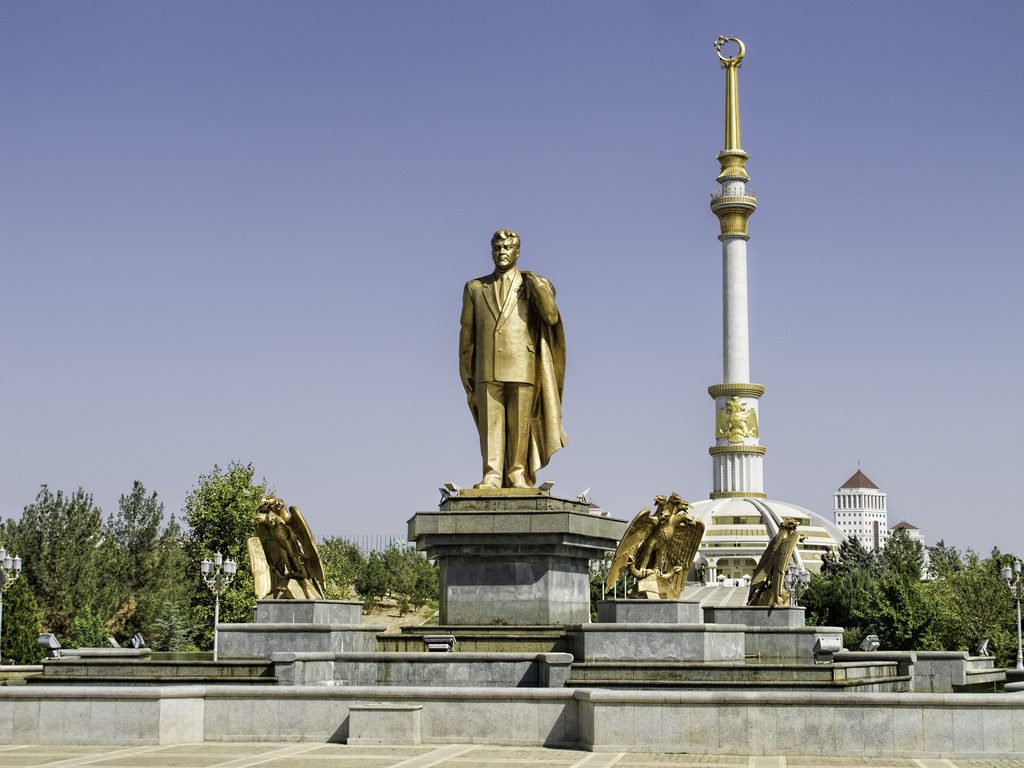 Economy
Exten­sive nat­ur­al gas reserves, the fourth largest in the world, mean that since 1993 cit­i­zens have received elec­tric­i­ty and nat­ur­al gas free of charge by the gov­ern­ment. These vast reserves also dic­tate the country's inter­na­tion­al rela­tions. A pipeline con­nect­ing Chi­na and Turk­menistan has ensured Chi­na is the nation's most impor­tant eco­nom­ic part­ner, how­ev­er plans for a trans-Caspi­an pipeline that would car­ry gas to Europe and a pipeline head­ing towards South Asia are demon­strat­ing a desire to expand exports beyond Iran, Rus­sia, and Chi­na. Despite these ambi­tions, and a pos­i­tive bal­ance of trade, Turk­menistan is still con­sid­ered a par­tic­u­lar­ly iso­la­tion­ist state. How­ev­er, Turk­menistan remains one of the fastest-grow­ing economies in the world, and has become one of the top ten glob­al pro­duc­ers of cot­ton in an attempt to diver­si­fy. Cen­tralised state own­er­ship of the econ­o­my per­vades most large indus­tries includ­ing finance and nat­ur­al resources, how­ev­er since Turkmenistan's inde­pen­dence there has been a move­ment towards pri­vati­sa­tion in trade, cater­ing, and con­sumer ser­vices, and pri­vate sec­tor own­er­ship forms the major­i­ty in agri­cul­ture, trade, and trans­port.