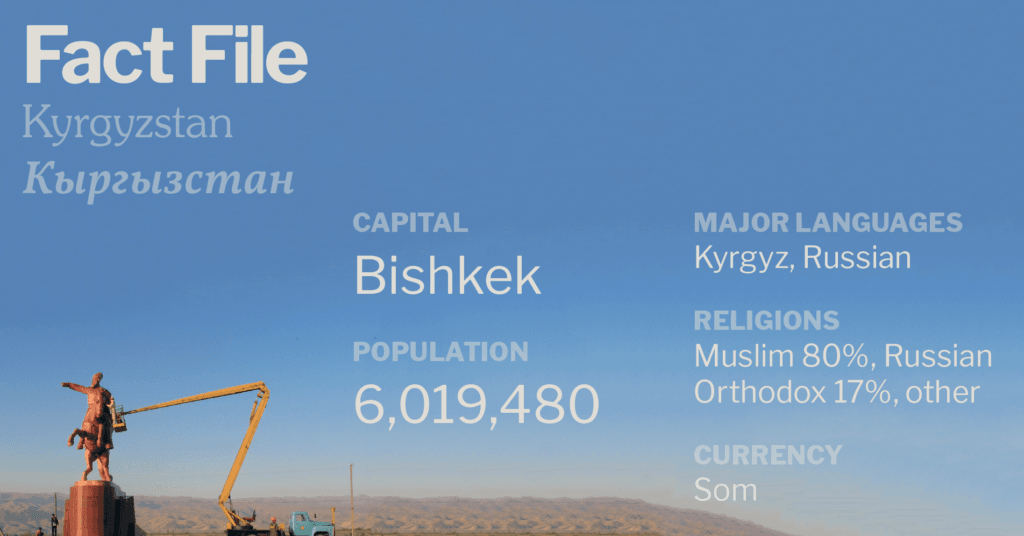 Name

Кыргызстан

, Qırğızstan
Population
6,019,480 (2016)
Capital city
Bishkek
Official language
Kyrgyz (official), Russian
Religions
Islam (80%), Russian (17%), other (3%)
Life expectancy
67.2 (men), 75.1 (women)
GDP
$7.061 billion (2017)
HDI
0.655 (120th)
Gini
27.4
President
Sooronbay Jeenbekov (incoming)
Almost entirely covered by the Tian Shan range, around 90% of Kyrgyz territory rests over 1500m above sea level. Nestled beneath smog-shrouded summits of the Ala Too mountains, Bishkek acts as the cultural and political hub of Central Asia's most open democracy. With a rich nomadic culture tangled with a Soviet history, Kyrgyzstan is in a period of cultural transition as it forms a new identity going into the twenty-first century.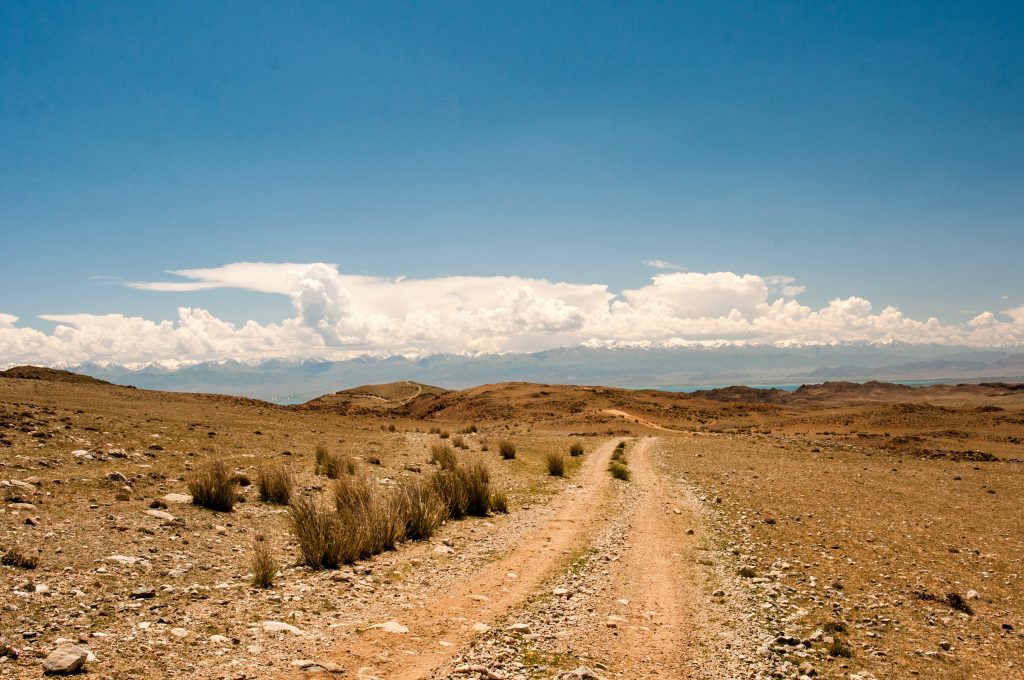 History
Each society needs its foundation myth — where issues of what should have happened are priotised over what probably happened. This is no different in Kyrgyzstan: the forty rays stemming from the sun on the Kyrgyz flag represent the forty tribes united under the epic hero Manas, who (at some point between 1000AD and 1800AD), conquered the Uighur to the east and the Afghans to the south to define the land of the Kyrgyz. 
The 500,000 line Epic of Manas, which outlines this tale, has been updated and changed at various points (especially during the early twentieth century), has been used as a tool to shape and mold Krygyz national identity through collective memory.
In 1876, the land that is now Kyrgyzstan was integrated into the Russian empire. Come 1917, this warranted a direct transition into the USSR — although given the remote nature of Kyrgyzstan, Soviet control didn't reach Bishkek until 1919. During this period — agriculture was collectivised, education was standardised, and the ethno-cultural dynamics of Kyrgyzstan fundamentally changed; in 1989, only 22% of Bishkek was ehtnically Kyrgyz.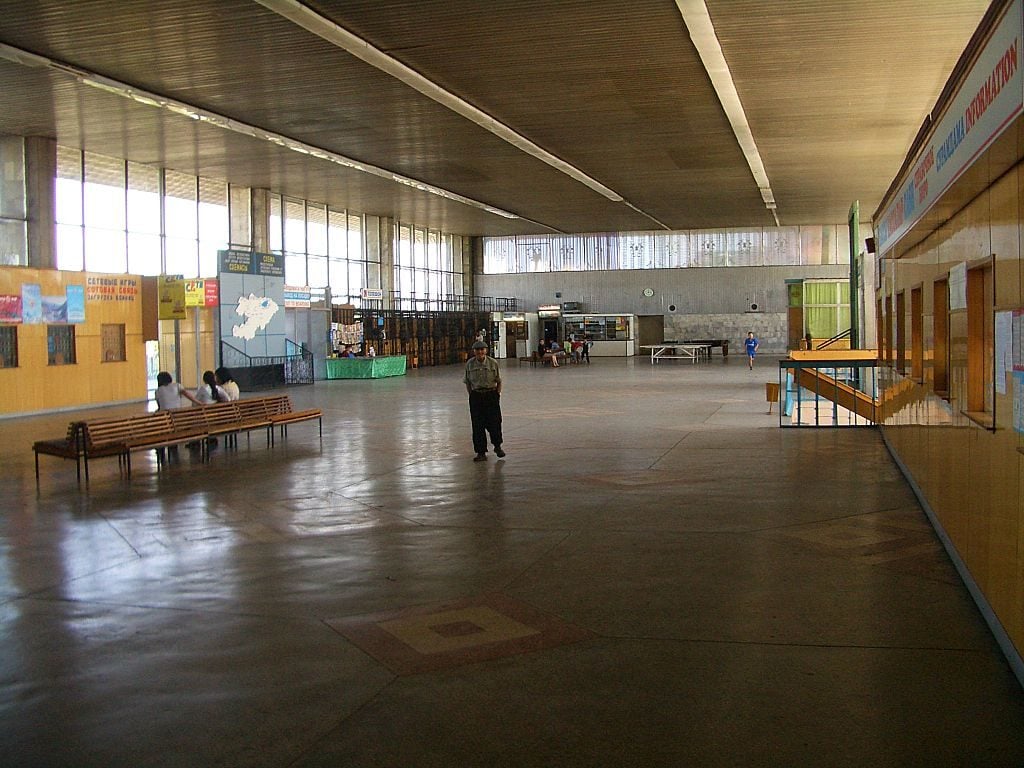 Following the implosion of the Soviet Union, the former USSR regional powers retained control of governance — yet in 2005, the 'Tulip Revolution' saw the overthrow of the uncontested presidency, and the instillation of a more competitive democracy. Riots — fuelled by corruption allegations — led another president, Kurmanbek Bakiyev, to flee the office. In 2017, Krygyzstan saw Central Asia's first successful competitive democratic handover of power.
Culture
Focal to Kyrgyz culture is its nomadic history. Traditional sports — typically equine based — are still popular, with national holidays often entailing various horseback sports, such as Tyin Emmei, where riders attempt to pick up a coin from the ground at full gallop. Falconry, both for sport and as a part of life — remain central to Kyrgyz culture. Moreover, the yurt (an intricate nomadic tent), remains so integral to Kyrgyz identity that a bird's eye view of a yurt is featured on the centre of the post-independence flag; indeed, the Kygyz nomadic games team holds the world record for yurt assembly, in just over two hours (knocking almost 24 hours from the previous record).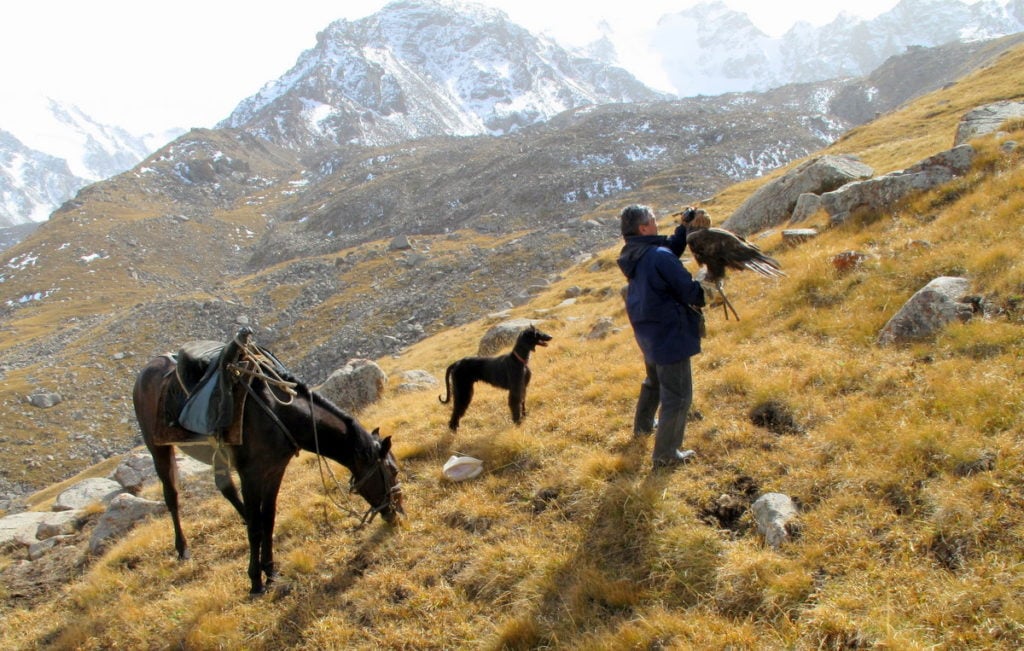 Nowruz, the Persian new year, is celebrated each year between 21 and 23 March, with a series of musical and culinary festivities. Typical central Asian dishes, such as plov and samsas, are popular throughout Kyrgyzstan — with the southern city of Osh acting as an official culinary capital. Moreover, certain Kyrgyz-specific meals, such as Naryn (something to the effect of horsemeat with noodles) bear a notable presence. Of the Kyrgyz national beers, Arpa, is surprisingly popular amongst beer connoisseurs — notably for its hoppy pale ale characteristics (rather than being a simple larger). Cognac is also very popular in Kyrgyzstan, yet given the expensive price of imports, Nash Cognac ('our cognac') is distilled in Kyrgyzstan. Naturally, vodka retains a strong presence as one of many Soviet hangovers.
Some corners of Kyrgyz culture remain somewhat controversial. Although not strictly 'traditional', bridal kidnapping remains prevalent throughout rural Kyrgyzstan, yet given its illegality and growing unpopularity, attempts have been made to eradicate the practice.
Politics
In 2017, Kyrgyzstan became the first Central Asian country to have a successful competitive election, with the ruling Social Democratic Party candidate won just over half of the popular vote in the first round of elections, meaning that there will be a peaceful handover of power in January of next year, a notable step for a country that has had two popular revolutions since independence in 1991. Kyrgyzstan formally operates as democratic unicameral government, however, pervasive Russian influence, restrictions to free speech (such as anti-gay rights advocacy laws) and certain weaknesses in the rule of law — cause Kyrgyzstan to be considered only a 'partly free' country by Freedom House, with an index score of 37 (compared to three in Uzbekistan, or 78 in Senegal).
Conflicts between Uzbek and Kyrgyz ethnic groups have often flared into violence over recent years — occasionally rising to a level that threatens civil war. However, these issues have been broadly quelled over recent years.
Kyrgyzstan remains the most open of central Asian countries, with comparatively expansive journalistic freedoms, and visa-free travel to and from many other countries. However, the state tax collection base remains slim, thus squeezing public expenditure possibilities and leaving open a large informal economy.
Economy
Kyrgyzstan remains the second-poorest Central Asian nation, and despite comparatively high levels of equality, per-capita income remains low. This is largely a consequence of having lost the Soviet Union as a large export market. Moreover, it seems that most Kyrgyz people have not benefited from the transition to a market economy, indeed, many have found their standard of living to have fallen as public service quality has declined. Nonetheless, profitable Kyrgyz export industries, such as a mining and prospecting, have allowed for the inflow of foreign currency, if not foreign investment. It remains to be seen whether this capital inflow will generate many jobs.