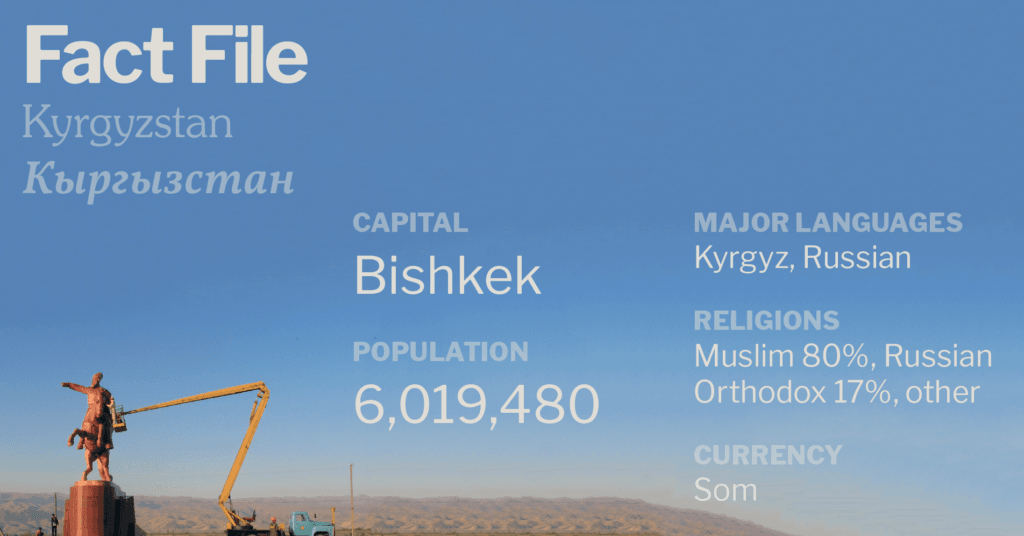 Name

Кыргызстан

, Qırğızs­tan
Pop­u­la­tion
6,019,480 (2016)
Cap­i­tal city
Bishkek
Offi­cial lan­guage
Kyr­gyz (offi­cial), Russ­ian
Reli­gions
Islam (80%), Russ­ian (17%), oth­er (3%)
Life expectan­cy
67.2 (men), 75.1 (women)
GDP
$7.061 bil­lion (2017)
HDI
0.655 (120th)
Gini
27.4
Pres­i­dent
Sooron­bay Jeen­bekov (incom­ing)
Almost entire­ly cov­ered by the Tian Shan range, around 90% of Kyr­gyz ter­ri­to­ry rests over 1500m above sea lev­el. Nes­tled beneath smog-shroud­ed sum­mits of the Ala Too moun­tains, Bishkek acts as the cul­tur­al and polit­i­cal hub of Cen­tral Asia's most open democ­ra­cy. With a rich nomadic cul­ture tan­gled with a Sovi­et his­to­ry, Kyr­gyzs­tan is in a peri­od of cul­tur­al tran­si­tion as it forms a new iden­ti­ty going into the twen­ty-first cen­tu­ry.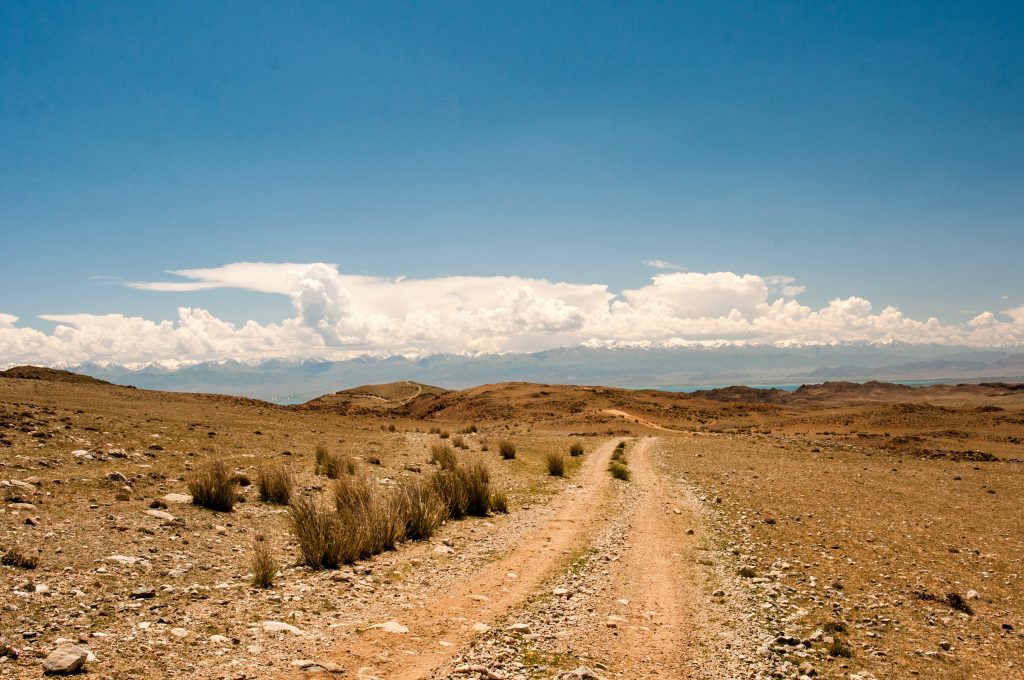 History
Each soci­ety needs its foun­da­tion myth — where issues of what should have hap­pened are pri­o­tised over what prob­a­bly hap­pened. This is no dif­fer­ent in Kyr­gyzs­tan: the forty rays stem­ming from the sun on the Kyr­gyz flag rep­re­sent the forty tribes unit­ed under the epic hero Man­as, who (at some point between 1000AD and 1800AD), con­quered the Uighur to the east and the Afghans to the south to define the land of the Kyr­gyz.
The 500,000 line Epic of Man­as, which out­lines this tale, has been updat­ed and changed at var­i­ous points (espe­cial­ly dur­ing the ear­ly twen­ti­eth cen­tu­ry), has been used as a tool to shape and mold Kry­gyz nation­al iden­ti­ty through col­lec­tive mem­o­ry.
In 1876, the land that is now Kyr­gyzs­tan was inte­grat­ed into the Russ­ian empire. Come 1917, this war­rant­ed a direct tran­si­tion into the USSR — although giv­en the remote nature of Kyr­gyzs­tan, Sovi­et con­trol did­n't reach Bishkek until 1919. Dur­ing this peri­od — agri­cul­ture was col­lec­tivised, edu­ca­tion was stan­dard­ised, and the eth­no-cul­tur­al dynam­ics of Kyr­gyzs­tan fun­da­men­tal­ly changed; in 1989, only 22% of Bishkek was eht­ni­cal­ly Kyr­gyz.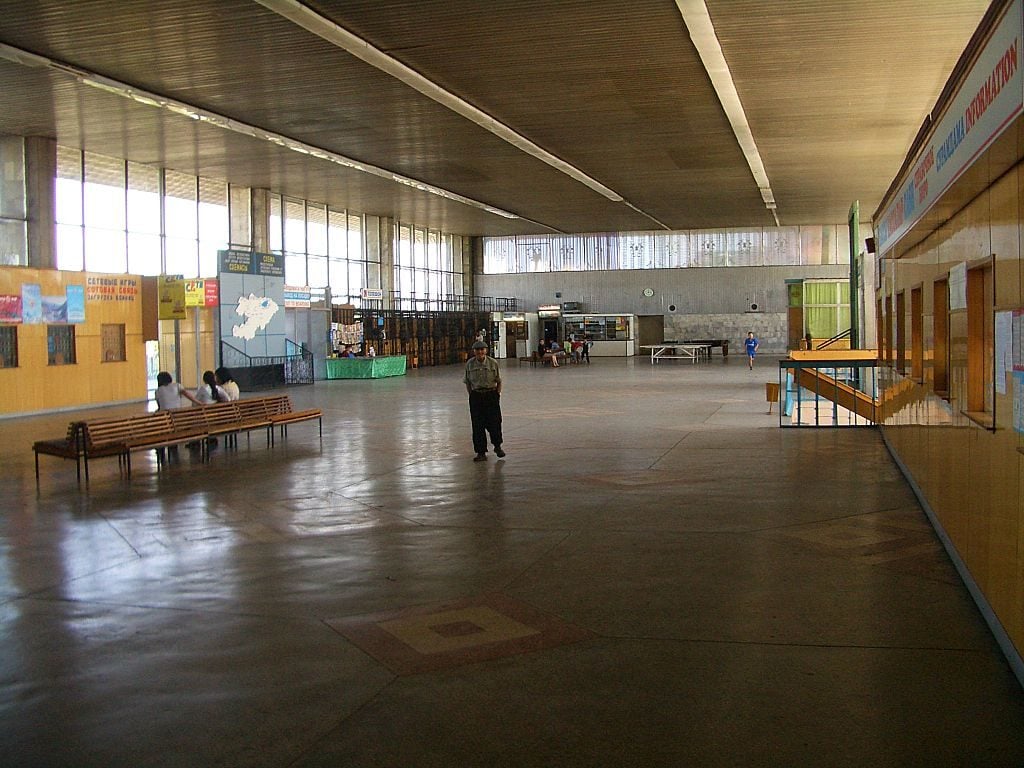 Fol­low­ing the implo­sion of the Sovi­et Union, the for­mer USSR region­al pow­ers retained con­trol of gov­er­nance — yet in 2005, the 'Tulip Rev­o­lu­tion' saw the over­throw of the uncon­test­ed pres­i­den­cy, and the instil­la­tion of a more com­pet­i­tive democ­ra­cy. Riots — fuelled by cor­rup­tion alle­ga­tions — led anoth­er pres­i­dent, Kur­man­bek Bakiyev, to flee the office. In 2017, Kry­gyzs­tan saw Cen­tral Asia's first suc­cess­ful com­pet­i­tive demo­c­ra­t­ic han­dover of pow­er.
Culture
Focal to Kyr­gyz cul­ture is its nomadic his­to­ry. Tra­di­tion­al sports — typ­i­cal­ly equine based — are still pop­u­lar, with nation­al hol­i­days often entail­ing var­i­ous horse­back sports, such as Tyin Emmei, where rid­ers attempt to pick up a coin from the ground at full gal­lop. Fal­con­ry, both for sport and as a part of life — remain cen­tral to Kyr­gyz cul­ture. More­over, the yurt (an intri­cate nomadic tent), remains so inte­gral to Kyr­gyz iden­ti­ty that a bird's eye view of a yurt is fea­tured on the cen­tre of the post-inde­pen­dence flag; indeed, the Kygyz nomadic games team holds the world record for yurt assem­bly, in just over two hours (knock­ing almost 24 hours from the pre­vi­ous record).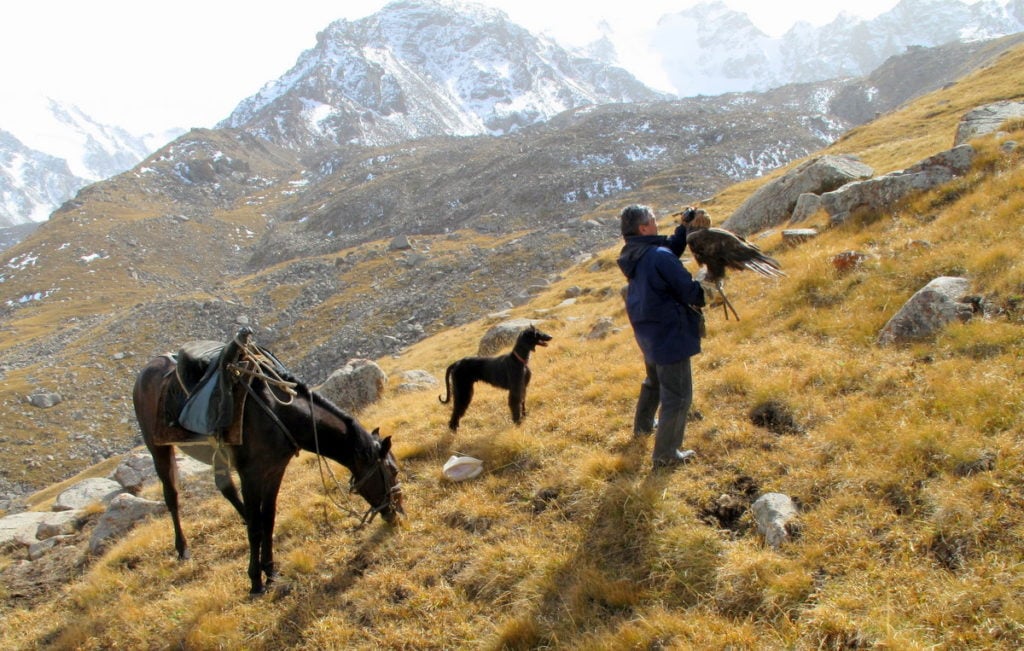 Nowruz, the Per­sian new year, is cel­e­brat­ed each year between 21 and 23 March, with a series of musi­cal and culi­nary fes­tiv­i­ties. Typ­i­cal cen­tral Asian dish­es, such as plov and sam­sas, are pop­u­lar through­out Kyr­gyzs­tan — with the south­ern city of Osh act­ing as an offi­cial culi­nary cap­i­tal. More­over, cer­tain Kyr­gyz-spe­cif­ic meals, such as Naryn (some­thing to the effect of horse­meat with noo­dles) bear a notable pres­ence. Of the Kyr­gyz nation­al beers, Arpa, is sur­pris­ing­ly pop­u­lar amongst beer con­nois­seurs — notably for its hop­py pale ale char­ac­ter­is­tics (rather than being a sim­ple larg­er). Cognac is also very pop­u­lar in Kyr­gyzs­tan, yet giv­en the expen­sive price of imports, Nash Cognac ('our cognac') is dis­tilled in Kyr­gyzs­tan. Nat­u­ral­ly, vod­ka retains a strong pres­ence as one of many Sovi­et hang­overs.
Some cor­ners of Kyr­gyz cul­ture remain some­what con­tro­ver­sial. Although not strict­ly 'tra­di­tion­al', bridal kid­nap­ping remains preva­lent through­out rur­al Kyr­gyzs­tan, yet giv­en its ille­gal­i­ty and grow­ing unpop­u­lar­i­ty, attempts have been made to erad­i­cate the prac­tice.
Politics
In 2017, Kyr­gyzs­tan became the first Cen­tral Asian coun­try to have a suc­cess­ful com­pet­i­tive elec­tion, with the rul­ing Social Demo­c­ra­t­ic Par­ty can­di­date won just over half of the pop­u­lar vote in the first round of elec­tions, mean­ing that there will be a peace­ful han­dover of pow­er in Jan­u­ary of next year, a notable step for a coun­try that has had two pop­u­lar rev­o­lu­tions since inde­pen­dence in 1991. Kyr­gyzs­tan for­mal­ly oper­ates as demo­c­ra­t­ic uni­cam­er­al gov­ern­ment, how­ev­er, per­va­sive Russ­ian influ­ence, restric­tions to free speech (such as anti-gay rights advo­ca­cy laws) and cer­tain weak­ness­es in the rule of law — cause Kyr­gyzs­tan to be con­sid­ered only a 'part­ly free' coun­try by Free­dom House, with an index score of 37 (com­pared to three in Uzbek­istan, or 78 in Sene­gal).
Con­flicts between Uzbek and Kyr­gyz eth­nic groups have often flared into vio­lence over recent years — occa­sion­al­ly ris­ing to a lev­el that threat­ens civ­il war. How­ev­er, these issues have been broad­ly quelled over recent years.
Kyr­gyzs­tan remains the most open of cen­tral Asian coun­tries, with com­par­a­tive­ly expan­sive jour­nal­is­tic free­doms, and visa-free trav­el to and from many oth­er coun­tries. How­ev­er, the state tax col­lec­tion base remains slim, thus squeez­ing pub­lic expen­di­ture pos­si­bil­i­ties and leav­ing open a large infor­mal econ­o­my.
Economy
Kyr­gyzs­tan remains the sec­ond-poor­est Cen­tral Asian nation, and despite com­par­a­tive­ly high lev­els of equal­i­ty, per-capi­ta income remains low. This is large­ly a con­se­quence of hav­ing lost the Sovi­et Union as a large export mar­ket. More­over, it seems that most Kyr­gyz peo­ple have not ben­e­fit­ed from the tran­si­tion to a mar­ket econ­o­my, indeed, many have found their stan­dard of liv­ing to have fall­en as pub­lic ser­vice qual­i­ty has declined. Nonethe­less, prof­itable Kyr­gyz export indus­tries, such as a min­ing and prospect­ing, have allowed for the inflow of for­eign cur­ren­cy, if not for­eign invest­ment. It remains to be seen whether this cap­i­tal inflow will gen­er­ate many jobs.