What does it take to inte­grate an emerg­ing mar­ket to the inter­na­tion­al cir­cu­la­tion? The vast lit­er­a­ture in the top­ic men­tions sev­er­al fac­tors, but most of them agrees on one thing; local, inde­pen­dent invest­ment experts with the pecu­liar knowl­edge of the region are key play­ers in the process of mar­ket inte­gra­tion by con­nect­ing local efforts with inter­na­tion­al invest­ments. Ten­gri Cap­i­tal is one of these ambi­tious firms and also the main spon­sor of Cen­tral Asia Forum 2019.
History and awards
The com­pa­ny was found­ed in 2004 in Almaty, Kaza­khstan under the name of Visor Cap­i­tal. It has changed name in 2016 along with own­er­ship, fol­lowed by a large-scale strate­gic rebirth. The com­pa­ny is one of the few inter­na­tion­al­ly recog­nised firms of the region, win­ning sev­er­al awards, including
The best bro­ker­age firm (2011, 2012/13, 2014)
Best invest­ment bank in Kaza­khstan (2013)
Best research team (2009, 2010).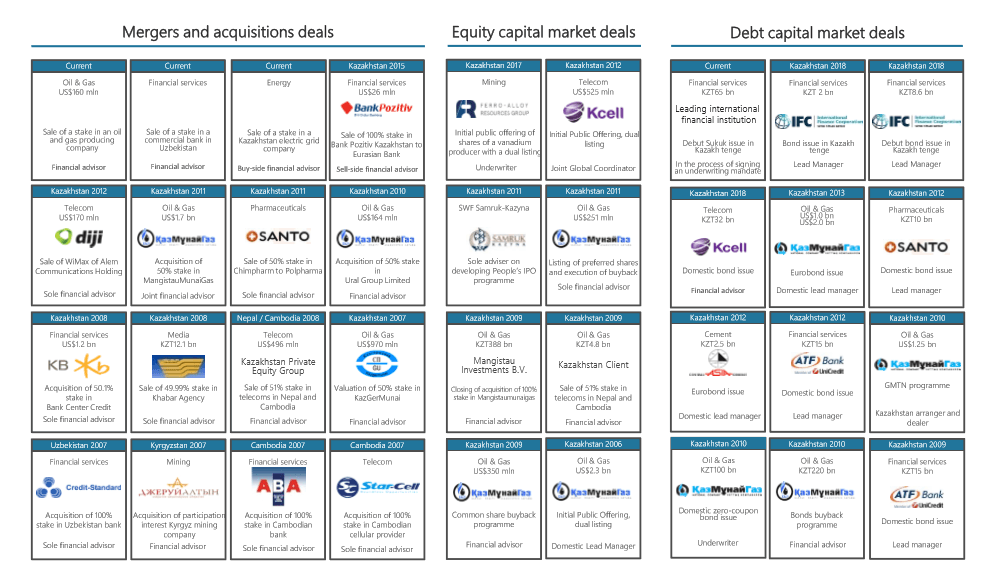 Ten­gri Capital's impres­sive client port­fo­lio show­cas­es part­ners from both the pub­lic and pri­vate sec­tor of the region­al econ­o­my. Accord­ing to the firm's agen­da, they would like to fur­ther expand by strength­en­ing the already exten­sive­ly inter­na­tion­al client base of investors, which would make Ten­gri Cap­i­tal the most promi­nent finan­cial pow­er­house of the region in secu­ri­ties trad­ing, invest­ment bank­ing, asset man­age­ment and prin­ci­pal invest­ing with inter­na­tion­al interests.
Services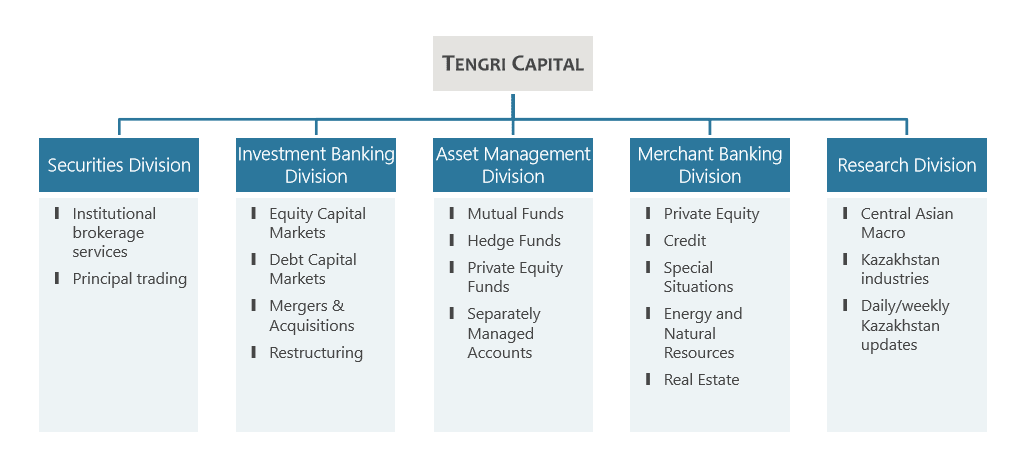 The firm's dynam­ic sales team is com­prised of sea­soned local and West­ern spe­cial­ists, based in Almaty, Lon­don and Stock­holm, with in-depth knowl­edge of cap­i­tal mar­kets activ­i­ty and par­tic­u­lar exper­tise in emerg­ing mar­kets and the CIS countries.
A mul­ti­cul­tur­al team of pro­fes­sion­als with exten­sive knowl­edge of inter­na­tion­al mar­kets and local mar­ket specifics, hav­ing the unri­valled under­stand­ing of the local busi­ness envi­ron­ment, and excel­lent rela­tion­ships with rel­e­vant reg­u­la­tors and authorities.
The strongest cor­po­rate finance team in Kaza­khstan with proven track record on local and inter­na­tion­al mar­ket. Pro­fes­sion­als com­bin­ing local knowl­edge and inter­na­tion­al expe­ri­ence who can orig­i­nate and exe­cute a wide array of mar­ket trans­ac­tions for local and inter­na­tion­al corporations.
The most rec­og­nized research team in Cen­tral Asia, cov­er­ing a grow­ing range of indus­try sec­tors through indus­try spe­cif­ic ana­lysts and pub­lish­ing a wide range of Research prod­ucts. They go fur­ther than a reg­u­lar research provider by arrang­ing a holis­tic view of fac­tors deter­min­ing invest­ment deci­sions such as local pol­i­tics, eco­nom­ic land­scape or tax­a­tion policies.
The most pro­fes­sion­al asset man­age­ment team in Cen­tral Asia, apply­ing the most mod­ern invest­ment analy­sis meth­ods and tac­ti­cal asset allo­ca­tion styles based on risk fac­tor, and offer­ing a wide choice of port­fo­lios, cov­er­ing all major tra­di­tion­al asset class­es, as well as alternatives.
Firms like Ten­gri Cap­i­tal has the poten­tial to kick­start Cen­tral Asia's fur­ther devel­op­ment by pro­vid­ing cut­ting-edge approach to invest­ment in the region.