I met his­to­ri­an Poli­na Ivano­va and artist Meh­di Hesamizadeh in Yere­van, Arme­nia in Jan­u­ary 2020 when I trav­elled there to par­tic­i­pate in Mejlis Institute's Per­sian Lan­guage and Cin­e­ma Win­ter Pro­gramme. Mejlis Insti­tute was launched by Poli­na and Meh­di in 2019 as a non-prof­it organ­i­sa­tion with the aim to bring to life the pre­mod­ern mean­ing of the word 'mejlis'—a social gath­er­ing for the pur­pose of recit­ing and dis­cussing poet­ry, play­ing music and enjoy­ing good com­pa­ny. In the spir­it of 'mejlis' the prin­ci­pal mis­sion of the Insti­tute is to pro­vide a plat­form for such gath­er­ings, fos­ter­ing learn­ing through edu­ca­tion pro­grammes. The Insti­tute holds sum­mer and win­ter schools for an inten­sive study of lan­guages, such as Armen­ian, Per­sian, Turk­ish, Kur­dish and oth­ers, reg­u­lar lan­guage cours­es through­out the year, lec­ture series, work­shops, poet­ry read­ings, music per­for­mances, exhi­bi­tions, book pre­sen­ta­tions and film screen­ings. With its loca­tion in Yere­van, Mejlis Insti­tute cel­e­brates the his­tor­i­cal posi­tion of Arme­nia as a con­tact zone between dif­fer­ent cul­tures and lan­guages, and thus, aims to strength­en the role of Yere­van as a hub of inter­na­tion­al cooperation.
Entan­gled in the New Year's cel­e­bra­tions, my arrival to Yere­van on Jan­u­ary 1, just as the pur­pose of my trip, was mis­un­der­stood by almost every­one. My Airbnb host has nev­er heard of any insti­tute in his his­tor­i­cal res­i­den­tial neigh­bour­hood of Ayges­tan. He was also con­vinced that no one would show up the first day of class­es, sched­uled at 9.00am on Jan­u­ary 2, because peo­ple would still be cel­e­brat­ing New Year. Despite the forces of the New Year cel­e­bra­tions, the course did com­mence as planned. Reflect­ing back, I under­stand that the scrupu­lous nature of the course is an exten­sion of the aca­d­e­m­ic rig­or pri­ori­tised at Mejlis Insti­tute. Per­son­al­ly, my aca­d­e­m­ic expe­ri­ence at Mejlis Insti­tute was excel­lent: I achieved a tremen­dous progress in my lan­guage skills in Per­sian and was intro­duced to unique works of Per­sian cin­e­matog­ra­phy. As a way of cel­e­brat­ing the impres­sive begin­nings of Mejlis Insti­tute, it is my plea­sure to present the inter­view with Poli­na Ivano­va and Meh­di Hesamizadeh.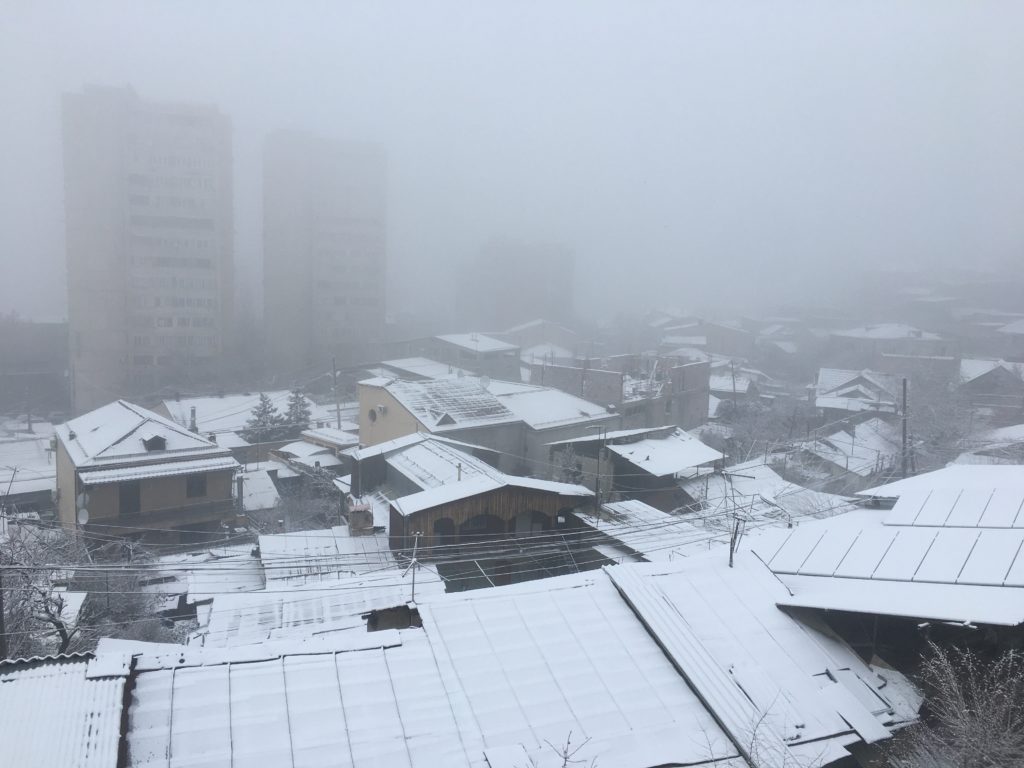 How did you come up with the idea to found Mejlis Institute?
Poli­na: There is a longer sto­ry, and there is a short­er sto­ry. The longer sto­ry may not be inter­est­ing for a wider audi­ence, because that is more of a per­son­al sto­ry. We were gath­er­ing with friends to read poet­ry for infor­mal poet­ry nights. Then we thought it would be great to actu­al­ly for­malise it, so that we can invite more peo­ple and make it into a kind of insti­tu­tion that would con­tin­ue itself and do oth­er sorts of things, not just read­ing poet­ry for fun, but doing all kinds of cul­tur­al pro­grammes. So, this is kind of the long pre-sto­ry to the insti­tute, and it was two years ago.
Was the poet­ry read­ing in Per­sian or in mul­ti­ple languages?
Poli­na: Actu­al­ly, we began with Greek and Roman­ian poet­ry, and it was dur­ing the night devot­ed Lorca's poet­ry that we decid­ed to do some­thing larg­er out of these gath­er­ings, which were around 10–15 peo­ple. Then, we began think­ing of Arme­nia and its place. This is deeply inter­twined with our per­son­al sto­ries. Intel­lec­tu­al­ly speak­ing, I came to Arme­nia from Ana­to­lia, because I was study­ing the Ottoman his­to­ry, and then, medieval Ana­to­lian his­to­ry. Slow­ly, I became inter­est­ed in Armen­ian cul­ture as part of the oth­er cul­tures of the Mid­dle East. Thus, I trav­elled to Arme­nia to learn Armen­ian lan­guage with aware­ness that the coun­try rep­re­sents cul­tures of the broad­er Mid­dle East.
Meh­di: I came here because of a dif­fer­ent rea­son, but it is also a very per­son­al sto­ry. I came here from Iran as a musi­cian to work with the local musi­cians. It is not acci­den­tal that I chose Arme­nia, because this coun­try is a cross­ing point for peo­ple from dif­fer­ent places: Syr­ia, Egypt, Rus­sia, Azer­bai­jan and etc. Work­ing in music, I trav­elled to dif­fer­ent places, but here in Arme­nia I feel at home. It is a small coun­try, but it is a point of inter­sec­tion of the larg­er world sur­round­ing it.
Poli­na: Arme­nia is not unique in this; these kinds of con­nec­tions are an inte­gral part of any human soci­ety. No cul­ture is pure or iso­lat­ed. It is always an amal­gam. Arme­nia is not dif­fer­ent. What makes Arme­nia in our eye spe­cial is that it is a hub geo­graph­i­cal­ly speak­ing: Iran is here; Ana­to­lia is here; Mesopotamia, and obvi­ous­ly the Caucasus.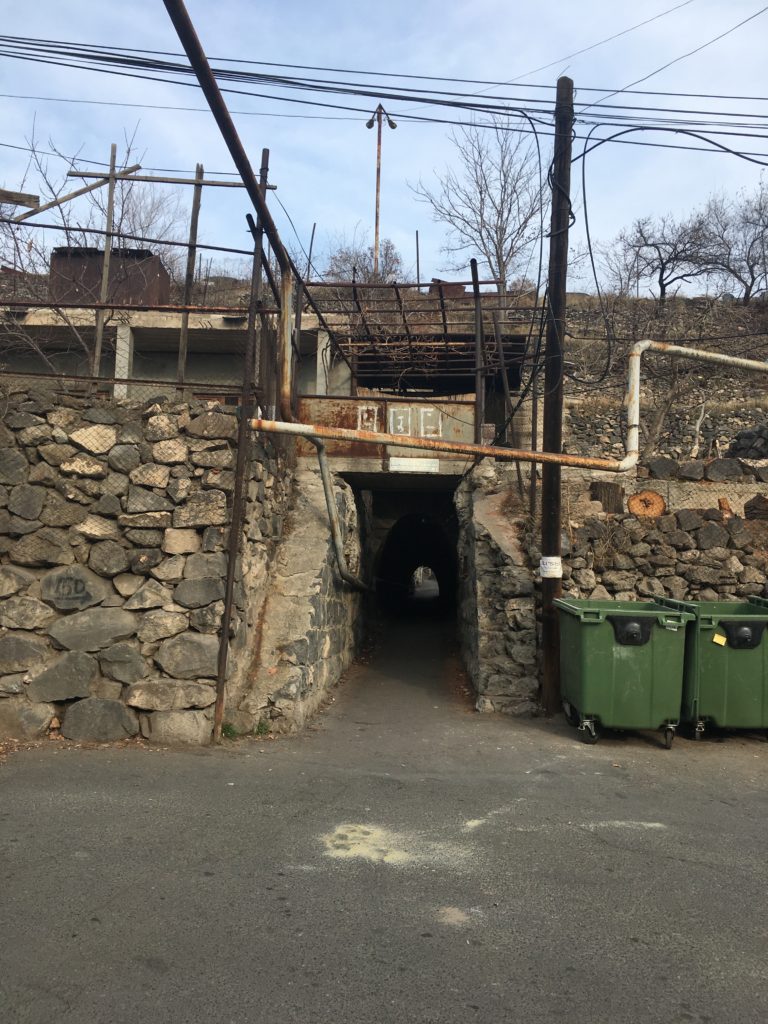 Did you have any reser­va­tions about choos­ing Armenia?
There have been some prac­ti­cal con­cerns. Arme­nia is still very much deal­ing with the lega­cy of the 20th-cen­tu­ry nation­al­ism, which is not past and is still with us now. Armen­ian cul­ture remains still a very nation­al­is­tic cul­ture. And for a good and bad rea­sons. Part­ly this has to do with the Armen­ian state hav­ing been built after the geno­cide, when cel­e­brat­ing any­thing nation­al was a cel­e­bra­tion of sur­vival. Yet, despite this envi­ron­ment, the edu­ca­tion that chil­dren get in schools, the kind of his­to­ry that is being taught here, Arme­nia has quite an open society.
Doing what we are doing here, although it is in some ways may be a counter-main­stream under­stand­ing of his­to­ry and cul­ture, we do not feel threat­ened; we have not had any neg­a­tive reac­tions from any­one we spoke with. We think that peo­ple here are curi­ous. For exam­ple, peo­ple pass­ing on the street and see­ing the name of our organ­i­sa­tion 'Mejlis' will say: 'Isn't "Mejlis" the name for the nation­al assem­bly of the Crimean Tatars?'
They will be puz­zled more but they will not be nec­es­sar­i­ly aggres­sive. They will say: 'This sounds like some­thing Mus­lim.' We have not until today seen any aggres­sion. So, when think­ing of the orig­i­nal con­cep­tion, we con­sid­ered Arme­nia to be a good choice, where stu­dents from dif­fer­ent coun­tries can come togeth­er. It is a safe and wel­com­ing place.
Meh­di: After the Sovi­et peri­od, it was dif­fi­cult to find an insti­tute, and place, where you can gath­er and have a sim­ple intel­lec­tu­al con­ver­sa­tion. And that was our ini­tial con­cern. We know we can go to a dif­fer­ent place, but here, we feel and see the pos­i­tive feedback.
Why and how did you devel­op the for­mat of the Institute?
Poli­na: We chose the for­mat that we did quite con­scious­ly. At one point, we were think­ing of col­lab­o­rat­ing with uni­ver­si­ty. Then we thought that we want­ed to go a dif­fer­ent way. We decid­ed to estab­lish it as a non-prof­it, basi­cal­ly an NGO, in order to be free with our for­mat. What does this mean? There was always this ques­tion mark: is this aca­d­e­m­ic or is this not aca­d­e­m­ic? Well, we then thought, we do not have to nec­es­sar­i­ly put our­selves into one frame. We can take from acad­e­mia what we like—being rig­or­ous, hav­ing high stan­dards, hav­ing high demands—but also avoid some things we find counter-pro­duc­tive in terms of intel­lec­tu­al life and com­mu­ni­ty, such as some aspects of com­pe­ti­tion and hier­ar­chy. We want­ed it to be as much as pos­si­ble an open place, open to all kinds of stu­dents, not nec­es­sar­i­ly aca­d­e­mics, but also to those who have gen­uine inter­est in learn­ing, so that we can have peo­ple of dif­fer­ent lev­els and from dif­fer­ent places come together—that is our pri­ma­ry con­cerns. In terms of the for­mat, we did not want to do some­thing just aca­d­e­m­ic. We want­ed to be more inter­est ori­ent­ed. Let's say if we want to do some kind of sum­mer school or sea­son­al school…Mehdi is work­ing on cin­e­matog­ra­phy for a work­shop for filmmakers…why not? We can do it here, because it speaks to our goal of bring­ing peo­ple togeth­er, work­ing togeth­er on inter­est­ing top­ics. If we want to do a work­shop, like the his­to­ry of the mul­ti­cul­tur­al city, which is invis­i­ble today, we can do it work­ing with stu­dents, archi­tects, ama­teur his­to­ri­ans. We are not putting our­selves into some kind of chains of how things should be done in an aca­d­e­m­ic institution.
Yere­van is cos­mopoli­tan. Here is the land of the Armen­ian peo­ple, but we want to make an impor­tant point about Armen­ian peo­ple: his­tor­i­cal­ly, Arme­ni­ans are known to have been always mul­ti­lin­gual, with one foot in one cul­ture and the oth­er foot in anoth­er cul­ture, serv­ing as trans­la­tors. Hence, you have Arme­ni­ans speak­ing Armen­ian and Per­sian, Russ­ian, Turk­ish, French and you can con­tin­ue this infi­nite­ly. We want to cel­e­brate the role of Arme­nia as a hub, Arme­nia as cross­roads, Arme­ni­ans as translators.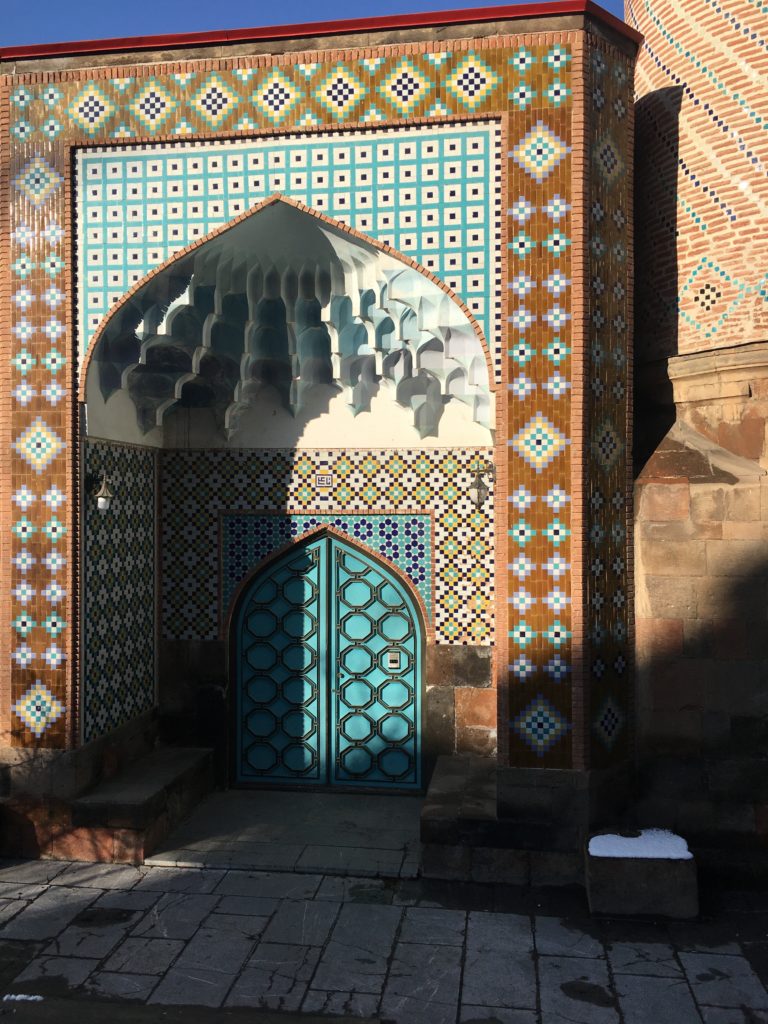 How did you move from the con­cep­tu­al idea of the Insti­tute into its establishment?
Meh­di: We liked the area of Ayges­tan, because it is part of the old Yere­van and it is close enough to the cen­tre but seclud­ed enough as well. We were look­ing for a house and this one has a gar­den, and as an Iran­ian I can tell you that this is very impor­tant for us. As metaphors in Per­sian poet­ry have it, a gar­den is the part of the house, where you can be the gar­den­er of you soul. When we found this house, it was an aban­doned, ruined place.
Poli­na: This was six-months of hard work repair­ing the house with our own hands and those of our friends. We are still in the process of ren­o­vat­ing oth­er parts of the house, but we made it ready for the sum­mer school in 2019. At the same time, we were man­ag­ing the pro­gram, writ­ing emails to uni­ver­si­ties and etc. to invite lec­tur­ers. It was all hap­pen­ing at once.
Any thoughts for the future?
In terms of fund­ing the pro­gramme, we are a non-prof­it, we just need mon­ey to pay the run­ning expens­es and pay the salaries, and we would like to make it free for all par­tic­i­pants. We would like this pro­gramme to be pos­si­ble not only for inter­na­tion­al stu­dents who have uni­ver­si­ty sup­port, but also for Armen­ian stu­dent, and spe­cial­ly the Iran­ian stu­dents, for whom it is extreme­ly dif­fi­cult to go abroad. They can come to Arme­nia, they don't have a visa prob­lem, but accom­mo­da­tion in Arme­nia, even if it is rea­son­ably priced, is too expen­sive for them. Our goal is to be able to offer a sim­ple, shared accom­mo­da­tion and a tuition-free study for dif­fer­ent kinds of stu­dents. Now we do charge tuition to cov­er the expens­es of the pro­gramme, but it is a very open pol­i­cy. We ask stu­dents, who come from uni­ver­si­ties, who can sup­port them­selves or who oth­er­wise have resources, to pay tuition to sup­port us and make it pos­si­ble. But for stu­dent who do not have the resources we offer tuition waivers, because we will nev­er say no to any­one who would like to come. It is a good work­ing solu­tion for now, but of course in the future we hope we can have more sus­tain­able funding.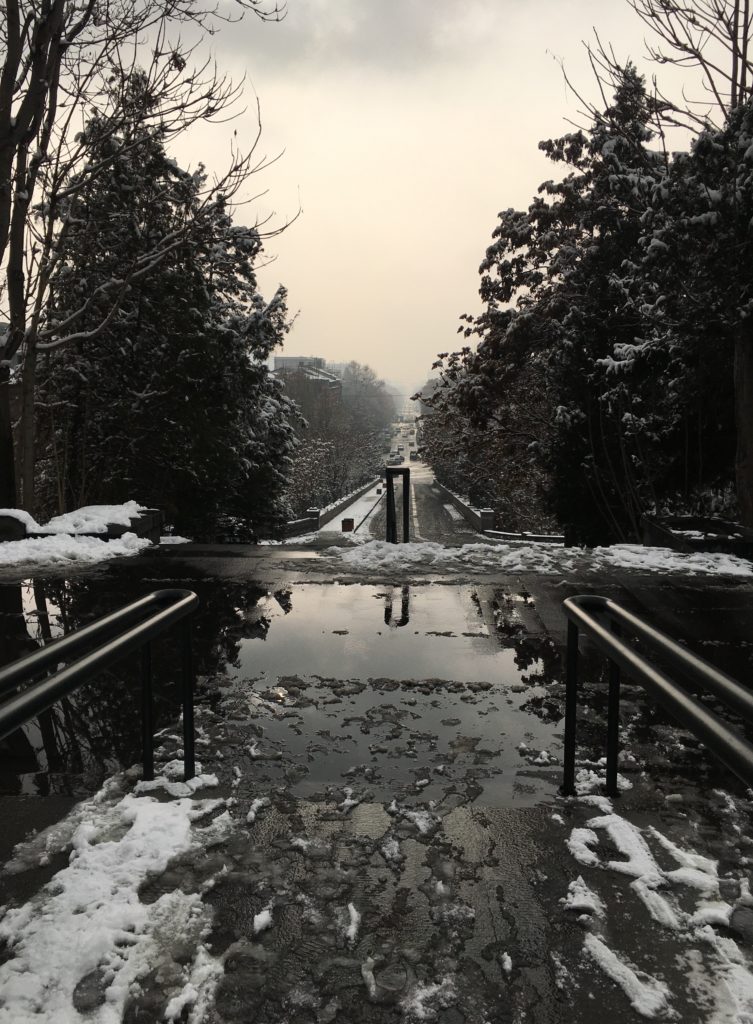 We are open to expand­ing in var­i­ous ways. The sum­mer course has a 'con­nect­ed his­to­ries' com­po­nent to it, and we like that our group con­sists of stu­dents learn­ing Per­sian, Turk­ish and Armen­ian, and how they inter­act with each oth­er and learn in the con­text of these oth­er lan­guages being taught next door, and how they have lec­tures on con­nect­ed his­to­ries. We hope to add Kur­dish to our list of lan­guages, and we would be hap­py to accom­mo­date larg­er ver­sions of this pro­gramme. This was a pilot project and we can do a month-long course on Per­sian and Per­sian cin­e­ma, or a poet­ry course. One of our poli­cies is that we try to under­stand what the needs of the stu­dents are and then try to shape our pro­grammes in such a way that those needs are met.
What are your reflec­tions on the past pro­grammes you held? What worked? What did not work?
In the sum­mer we admit­ted 15 stu­dents, but three of them can­celled, so we end­ed up hav­ing 12 stu­dents. I would not say that every­thing worked, but one thing that worked very well was the idea of con­nect­ed lan­guages and his­to­ries. We had stu­dents from Turkey learn­ing Armen­ian and an Armen­ian stu­dent learn­ing Turk­ish, and Turk­ish stu­dents learn­ing Per­sian, mul­ti­ple lin­guis­tic over­laps, and when we had our cof­fee break in the gar­den, we would speak all of these lan­guages togeth­er and that was very sweet. This meant that stu­dents had an extra chance to prac­tice with a native speak­er and rein­force what they learned in class. That real­ly worked very well, and we had a very inter­est­ing series of lec­tures and explored the notion of con­nect­ed his­to­ries from archae­ol­o­gy, ancient his­to­ry, music, medieval lit­er­a­ture. We will repeat the course, but it will nev­er be the same because we would invite dif­fer­ent lec­tur­ers, and of course, stu­dents would be dif­fer­ent, so there would be dif­fer­ent inter­ests and focus­es. It will be the same frame­work, but it will take a dif­fer­ent shape every time.
In terms of some­thing that did not work, well, I wish that our stu­dents from Iran could come. We had a few appli­cants from Iran, whom we want­ed to invite, but most of them even on tuition waiv­er, could not come here. Even though they could come here by bus, accom­mo­da­tion here is real­ly expen­sive for them, and even life, which does not seem expen­sive for some­one from Europe is expen­sive for Iran­ian stu­dents. For us this is real­ly the miss­ing link. We wish for Iran­ian stu­dents, teach­ers, schol­ars to come here and we hope we can find the resources to make it pos­si­ble. With local stu­dents from Arme­nia, we would like to make our­selves more known here as an open insti­tu­tion, so that local stu­dents would join us. These are our goals for this year and years to come.
Mejlis Insti­tute is hold­ing a sum­mer pro­gramme between July 13 — August 14, 2020, which will con­sist of three par­al­lel lan­guage cours­es – Armen­ian, Per­sian and Turk­ish – and a series of sem­i­nars devot­ed to top­ics in con­nect­ed his­to­ries of Arme­nia, Iran and Ana­to­lia. I encour­age all inter­est­ed stu­dents to check out Mejlis' web­site. I thank Poli­na, Meh­di and Maryam (our Per­sian instruc­tor) for all of their work. I per­son­al­ly had an amaz­ing time and I look for­ward to par­tic­i­pat­ing in Mejlis in one capac­i­ty or anoth­er soon.