I met his­tor­i­an Polina Ivan­ova and artist Mehdi Hes­am­iz­a­deh in Yerevan, Armenia in Janu­ary 2020 when I trav­elled there to par­ti­cip­ate in Mejl­is Institute's Per­sian Lan­guage and Cinema Winter Pro­gramme. Mejl­is Insti­tute was launched by Polina and Mehdi in 2019 as a non-profit organ­isa­tion with the aim to bring to life the pre­mod­ern mean­ing of the word 'mejl­is' — a social gath­er­ing for the pur­pose of recit­ing and dis­cuss­ing poetry, play­ing music and enjoy­ing good com­pany. In the spir­it of 'mejl­is' the prin­cip­al mis­sion of the Insti­tute is to provide a plat­form for such gath­er­ings, fos­ter­ing learn­ing through edu­ca­tion pro­grammes. The Insti­tute holds sum­mer and winter schools for an intens­ive study of lan­guages, such as Armeni­an, Per­sian, Turk­ish, Kur­d­ish and oth­ers, reg­u­lar lan­guage courses through­out the year, lec­ture series, work­shops, poetry read­ings, music per­form­ances, exhib­i­tions, book present­a­tions and film screen­ings. With its loc­a­tion in Yerevan, Mejl­is Insti­tute cel­eb­rates the his­tor­ic­al pos­i­tion of Armenia as a con­tact zone between dif­fer­ent cul­tures and lan­guages, and thus, aims to strengthen the role of Yerevan as a hub of inter­na­tion­al cooper­a­tion.
Entangled in the New Year's cel­eb­ra­tions, my arrival to Yerevan on Janu­ary 1, just as the pur­pose of my trip, was mis­un­der­stood by almost every­one. My Airb­nb host has nev­er heard of any insti­tute in his his­tor­ic­al res­id­en­tial neigh­bour­hood of Aygest­an. He was also con­vinced that no one would show up the first day of classes, sched­uled at 9.00am on Janu­ary 2, because people would still be cel­eb­rat­ing New Year. Des­pite the forces of the New Year cel­eb­ra­tions, the course did com­mence as planned. Reflect­ing back, I under­stand that the scru­pu­lous nature of the course is an exten­sion of the aca­dem­ic rig­or pri­or­it­ised at Mejl­is Insti­tute. Per­son­ally, my aca­dem­ic exper­i­ence at Mejl­is Insti­tute was excel­lent: I achieved a tre­mend­ous pro­gress in my lan­guage skills in Per­sian and was intro­duced to unique works of Per­sian cine­ma­to­graphy. As a way of cel­eb­rat­ing the impress­ive begin­nings of Mejl­is Insti­tute, it is my pleas­ure to present the inter­view with Polina Ivan­ova and Mehdi Hes­am­iz­a­deh.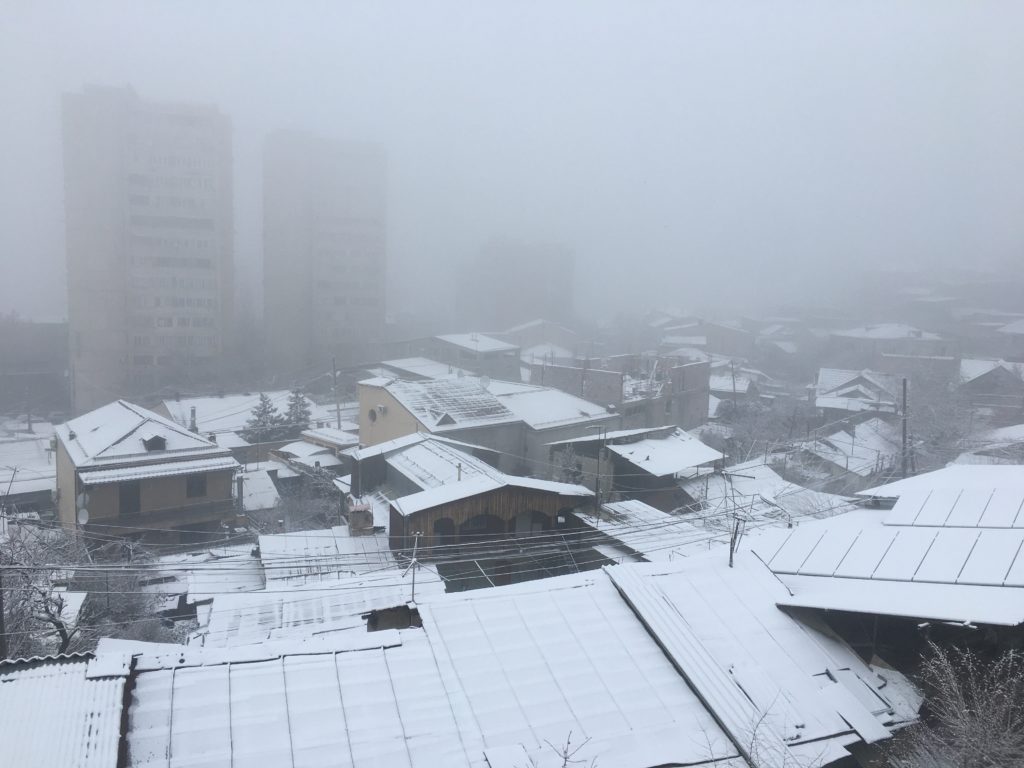 How did you come up with the idea to found Mejl­is Insti­tute?
Polina: There is a longer story, and there is a short­er story. The longer story may not be inter­est­ing for a wider audi­ence, because that is more of a per­son­al story. We were gath­er­ing with friends to read poetry for inform­al poetry nights. Then we thought it would be great to actu­ally form­al­ise it, so that we can invite more people and make it into a kind of insti­tu­tion that would con­tin­ue itself and do oth­er sorts of things, not just read­ing poetry for fun, but doing all kinds of cul­tur­al pro­grammes. So, this is kind of the long pre-story to the insti­tute, and it was two years ago.
Was the poetry read­ing in Per­sian or in mul­tiple lan­guages?
Polina: Actu­ally, we began with Greek and Romani­an poetry, and it was dur­ing the night devoted Lorca's poetry that we decided to do some­thing lar­ger out of these gath­er­ings, which were around 10 – 15 people. Then, we began think­ing of Armenia and its place. This is deeply inter­twined with our per­son­al stor­ies. Intel­lec­tu­ally speak­ing, I came to Armenia from Anato­lia, because I was study­ing the Otto­man his­tory, and then, medi­ev­al Anato­li­an his­tory. Slowly, I became inter­ested in Armeni­an cul­ture as part of the oth­er cul­tures of the Middle East. Thus, I trav­elled to Armenia to learn Armeni­an lan­guage with aware­ness that the coun­try rep­res­ents cul­tures of the broad­er Middle East.
Mehdi: I came here because of a dif­fer­ent reas­on, but it is also a very per­son­al story. I came here from Iran as a musi­cian to work with the loc­al musi­cians. It is not acci­dent­al that I chose Armenia, because this coun­try is a cross­ing point for people from dif­fer­ent places: Syr­ia, Egypt, Rus­sia, Azerbaijan and etc. Work­ing in music, I trav­elled to dif­fer­ent places, but here in Armenia I feel at home. It is a small coun­try, but it is a point of inter­sec­tion of the lar­ger world sur­round­ing it.
Polina: Armenia is not unique in this; these kinds of con­nec­tions are an integ­ral part of any human soci­ety. No cul­ture is pure or isol­ated. It is always an amal­gam. Armenia is not dif­fer­ent. What makes Armenia in our eye spe­cial is that it is a hub geo­graph­ic­ally speak­ing: Iran is here; Anato­lia is here; Meso­pot­amia, and obvi­ously the Cau­cas­us.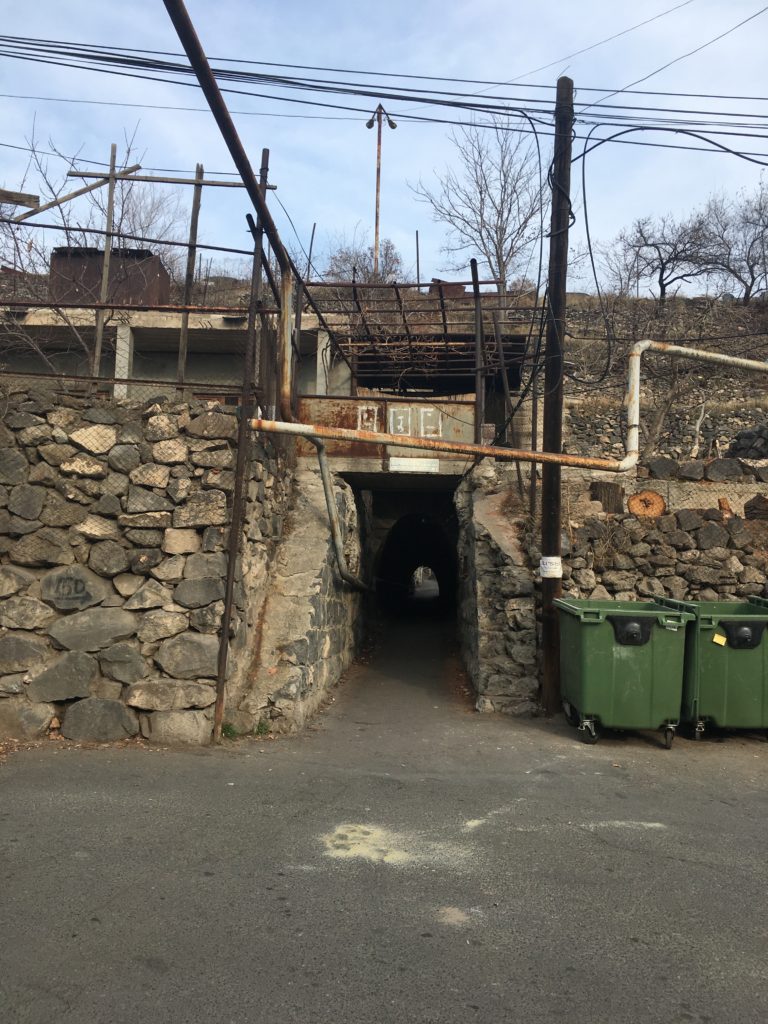 Did you have any reser­va­tions about choos­ing Armenia?
There have been some prac­tic­al con­cerns. Armenia is still very much deal­ing with the leg­acy of the 20th-cen­tury nation­al­ism, which is not past and is still with us now. Armeni­an cul­ture remains still a very nation­al­ist­ic cul­ture. And for a good and bad reas­ons. Partly this has to do with the Armeni­an state hav­ing been built after the gen­o­cide, when cel­eb­rat­ing any­thing nation­al was a cel­eb­ra­tion of sur­viv­al. Yet, des­pite this envir­on­ment, the edu­ca­tion that chil­dren get in schools, the kind of his­tory that is being taught here, Armenia has quite an open soci­ety.
Doing what we are doing here, although it is in some ways may be a counter-main­stream under­stand­ing of his­tory and cul­ture, we do not feel threatened; we have not had any neg­at­ive reac­tions from any­one we spoke with. We think that people here are curi­ous. For example, people passing on the street and see­ing the name of our organ­isa­tion 'Mejl­is' will say: 'Isn't "Mejl­is" the name for the nation­al assembly of the Crimean Tatars?'
They will be puzzled more but they will not be neces­sar­ily aggress­ive. They will say: 'This sounds like some­thing Muslim.' We have not until today seen any aggres­sion. So, when think­ing of the ori­gin­al con­cep­tion, we con­sidered Armenia to be a good choice, where stu­dents from dif­fer­ent coun­tries can come togeth­er. It is a safe and wel­com­ing place.
Mehdi: After the Soviet peri­od, it was dif­fi­cult to find an insti­tute, and place, where you can gath­er and have a simple intel­lec­tu­al con­ver­sa­tion. And that was our ini­tial con­cern. We know we can go to a dif­fer­ent place, but here, we feel and see the pos­it­ive feed­back.
Why and how did you devel­op the format of the Insti­tute?
Polina: We chose the format that we did quite con­sciously. At one point, we were think­ing of col­lab­or­at­ing with uni­ver­sity. Then we thought that we wanted to go a dif­fer­ent way. We decided to estab­lish it as a non-profit, basic­ally an NGO, in order to be free with our format. What does this mean? There was always this ques­tion mark: is this aca­dem­ic or is this not aca­dem­ic? Well, we then thought, we do not have to neces­sar­ily put ourselves into one frame. We can take from aca­demia what we like — being rig­or­ous, hav­ing high stand­ards, hav­ing high demands — but also avoid some things we find counter-pro­duct­ive in terms of intel­lec­tu­al life and com­munity, such as some aspects of com­pet­i­tion and hier­archy. We wanted it to be as much as pos­sible an open place, open to all kinds of stu­dents, not neces­sar­ily aca­dem­ics, but also to those who have genu­ine interest in learn­ing, so that we can have people of dif­fer­ent levels and from dif­fer­ent places come togeth­er — that is our primary con­cerns. In terms of the format, we did not want to do some­thing just aca­dem­ic. We wanted to be more interest ori­ented. Let's say if we want to do some kind of sum­mer school or sea­son­al school…Mehdi is work­ing on cine­ma­to­graphy for a work­shop for filmmakers…why not? We can do it here, because it speaks to our goal of bring­ing people togeth­er, work­ing togeth­er on inter­est­ing top­ics. If we want to do a work­shop, like the his­tory of the mul­ti­cul­tur­al city, which is invis­ible today, we can do it work­ing with stu­dents, archi­tects, ama­teur his­tor­i­ans. We are not put­ting ourselves into some kind of chains of how things should be done in an aca­dem­ic insti­tu­tion.
Yerevan is cos­mo­pol­it­an. Here is the land of the Armeni­an people, but we want to make an import­ant point about Armeni­an people: his­tor­ic­ally, Armeni­ans are known to have been always mul­ti­lin­gual, with one foot in one cul­ture and the oth­er foot in anoth­er cul­ture, serving as trans­lat­ors. Hence, you have Armeni­ans speak­ing Armeni­an and Per­sian, Rus­si­an, Turk­ish, French and you can con­tin­ue this infin­itely. We want to cel­eb­rate the role of Armenia as a hub, Armenia as cross­roads, Armeni­ans as trans­lat­ors.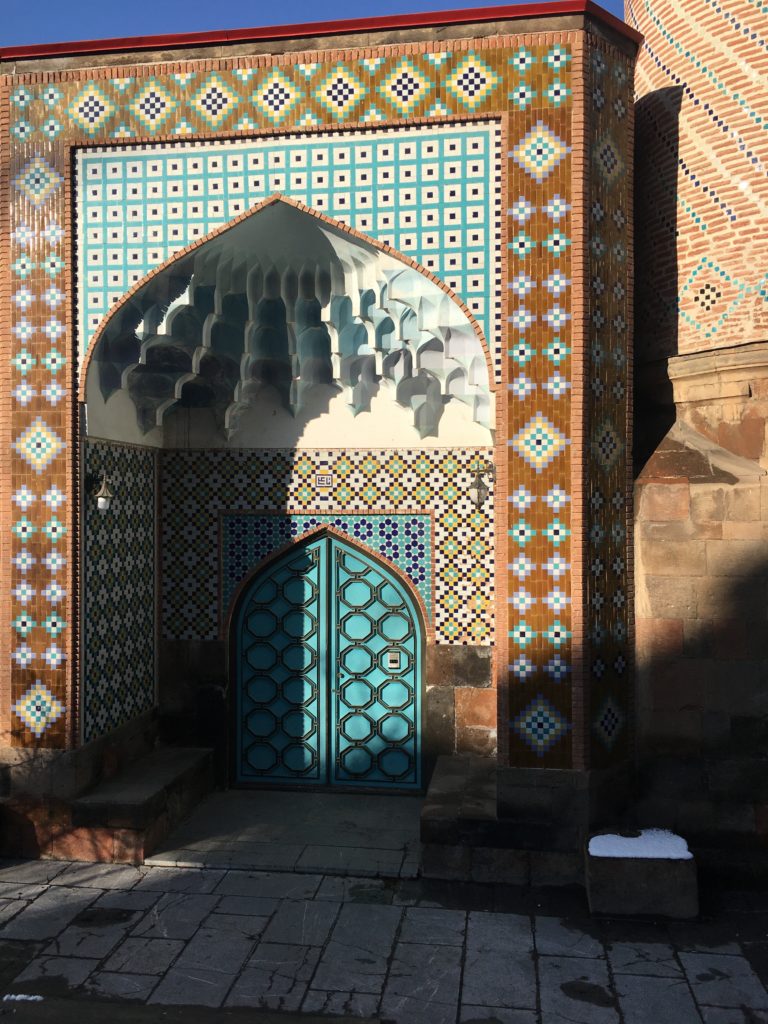 How did you move from the con­cep­tu­al idea of the Insti­tute into its estab­lish­ment?
Mehdi: We liked the area of Aygest­an, because it is part of the old Yerevan and it is close enough to the centre but secluded enough as well. We were look­ing for a house and this one has a garden, and as an Ira­ni­an I can tell you that this is very import­ant for us. As meta­phors in Per­sian poetry have it, a garden is the part of the house, where you can be the garden­er of you soul. When we found this house, it was an aban­doned, ruined place.
Polina: This was six-months of hard work repair­ing the house with our own hands and those of our friends. We are still in the pro­cess of renov­at­ing oth­er parts of the house, but we made it ready for the sum­mer school in 2019. At the same time, we were man­aging the pro­gram, writ­ing emails to uni­ver­sit­ies and etc. to invite lec­tur­ers. It was all hap­pen­ing at once.
Any thoughts for the future?
In terms of fund­ing the pro­gramme, we are a non-profit, we just need money to pay the run­ning expenses and pay the salar­ies, and we would like to make it free for all par­ti­cipants. We would like this pro­gramme to be pos­sible not only for inter­na­tion­al stu­dents who have uni­ver­sity sup­port, but also for Armeni­an stu­dent, and spe­cially the Ira­ni­an stu­dents, for whom it is extremely dif­fi­cult to go abroad. They can come to Armenia, they don't have a visa prob­lem, but accom­mod­a­tion in Armenia, even if it is reas­on­ably priced, is too expens­ive for them. Our goal is to be able to offer a simple, shared accom­mod­a­tion and a tuition-free study for dif­fer­ent kinds of stu­dents. Now we do charge tuition to cov­er the expenses of the pro­gramme, but it is a very open policy. We ask stu­dents, who come from uni­ver­sit­ies, who can sup­port them­selves or who oth­er­wise have resources, to pay tuition to sup­port us and make it pos­sible. But for stu­dent who do not have the resources we offer tuition waivers, because we will nev­er say no to any­one who would like to come. It is a good work­ing solu­tion for now, but of course in the future we hope we can have more sus­tain­able fund­ing.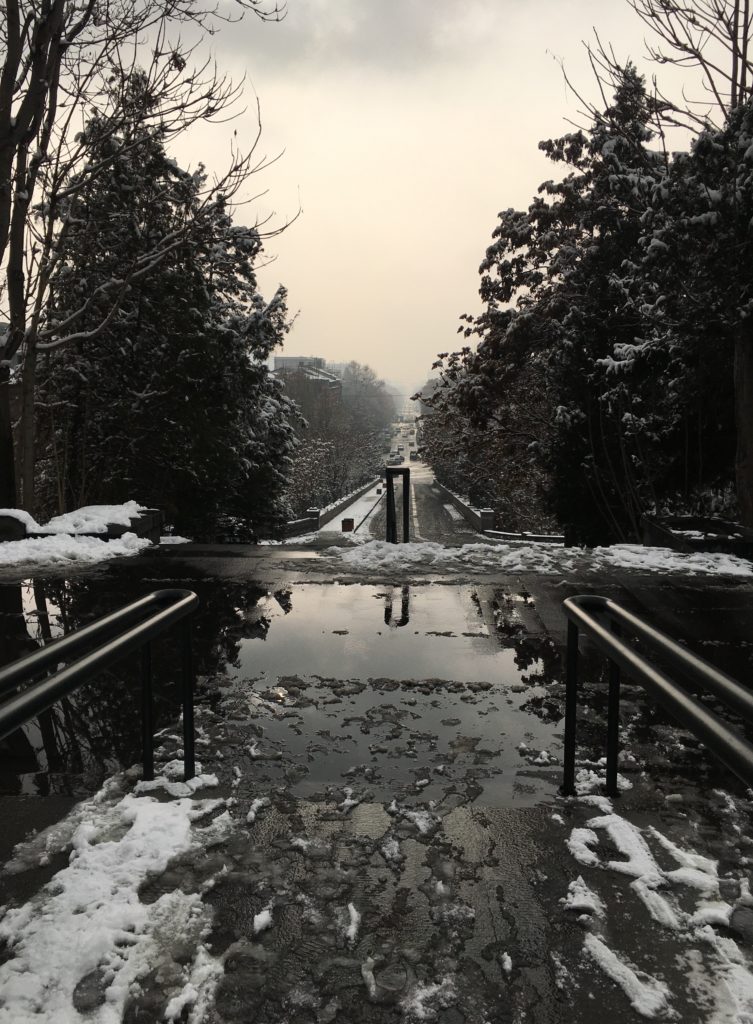 We are open to expand­ing in vari­ous ways. The sum­mer course has a 'con­nec­ted his­tor­ies' com­pon­ent to it, and we like that our group con­sists of stu­dents learn­ing Per­sian, Turk­ish and Armeni­an, and how they inter­act with each oth­er and learn in the con­text of these oth­er lan­guages being taught next door, and how they have lec­tures on con­nec­ted his­tor­ies. We hope to add Kur­d­ish to our list of lan­guages, and we would be happy to accom­mod­ate lar­ger ver­sions of this pro­gramme. This was a pilot pro­ject and we can do a month-long course on Per­sian and Per­sian cinema, or a poetry course. One of our policies is that we try to under­stand what the needs of the stu­dents are and then try to shape our pro­grammes in such a way that those needs are met.
What are your reflec­tions on the past pro­grammes you held? What worked? What did not work?
In the sum­mer we admit­ted 15 stu­dents, but three of them can­celled, so we ended up hav­ing 12 stu­dents. I would not say that everything worked, but one thing that worked very well was the idea of con­nec­ted lan­guages and his­tor­ies. We had stu­dents from Tur­key learn­ing Armeni­an and an Armeni­an stu­dent learn­ing Turk­ish, and Turk­ish stu­dents learn­ing Per­sian, mul­tiple lin­guist­ic over­laps, and when we had our cof­fee break in the garden, we would speak all of these lan­guages togeth­er and that was very sweet. This meant that stu­dents had an extra chance to prac­tice with a nat­ive speak­er and rein­force what they learned in class. That really worked very well, and we had a very inter­est­ing series of lec­tures and explored the notion of con­nec­ted his­tor­ies from archae­ology, ancient his­tory, music, medi­ev­al lit­er­at­ure. We will repeat the course, but it will nev­er be the same because we would invite dif­fer­ent lec­tur­ers, and of course, stu­dents would be dif­fer­ent, so there would be dif­fer­ent interests and focuses. It will be the same frame­work, but it will take a dif­fer­ent shape every time.
In terms of some­thing that did not work, well, I wish that our stu­dents from Iran could come. We had a few applic­ants from Iran, whom we wanted to invite, but most of them even on tuition waiver, could not come here. Even though they could come here by bus, accom­mod­a­tion here is really expens­ive for them, and even life, which does not seem expens­ive for someone from Europe is expens­ive for Ira­ni­an stu­dents. For us this is really the miss­ing link. We wish for Ira­ni­an stu­dents, teach­ers, schol­ars to come here and we hope we can find the resources to make it pos­sible. With loc­al stu­dents from Armenia, we would like to make ourselves more known here as an open insti­tu­tion, so that loc­al stu­dents would join us. These are our goals for this year and years to come.
Mejl­is Insti­tute is hold­ing a sum­mer pro­gramme between July 13 – August 14, 2020, which will con­sist of three par­al­lel lan­guage courses – Armeni­an, Per­sian and Turk­ish – and a series of sem­inars devoted to top­ics in con­nec­ted his­tor­ies of Armenia, Iran and Anato­lia. I encour­age all inter­ested stu­dents to check out Mejl­is' web­site. I thank Polina, Mehdi and Maryam (our Per­sian instruct­or) for all of their work. I per­son­ally had an amaz­ing time and I look for­ward to par­ti­cip­at­ing in Mejl­is in one capa­city or anoth­er soon.