What does it take to integrate an emerging market to the international circulation? The vast literature in the topic mentions several factors, but most of them agrees on one thing; local, independent investment experts with the peculiar knowledge of the region are key players in the process of market integration by connecting local efforts with international investments. Tengri Capital is one of these ambitious firms and also the main sponsor of Central Asia Forum 2019.
History and awards
The company was founded in 2004 in Almaty, Kazakhstan under the name of Visor Capital. It has changed name in 2016 along with ownership, followed by a large-scale strategic rebirth. The company is one of the few internationally recognised firms of the region, winning several awards, including
The best brokerage firm (2011, 2012/13, 2014)
Best investment bank in Kazakhstan (2013)
Best research team (2009, 2010).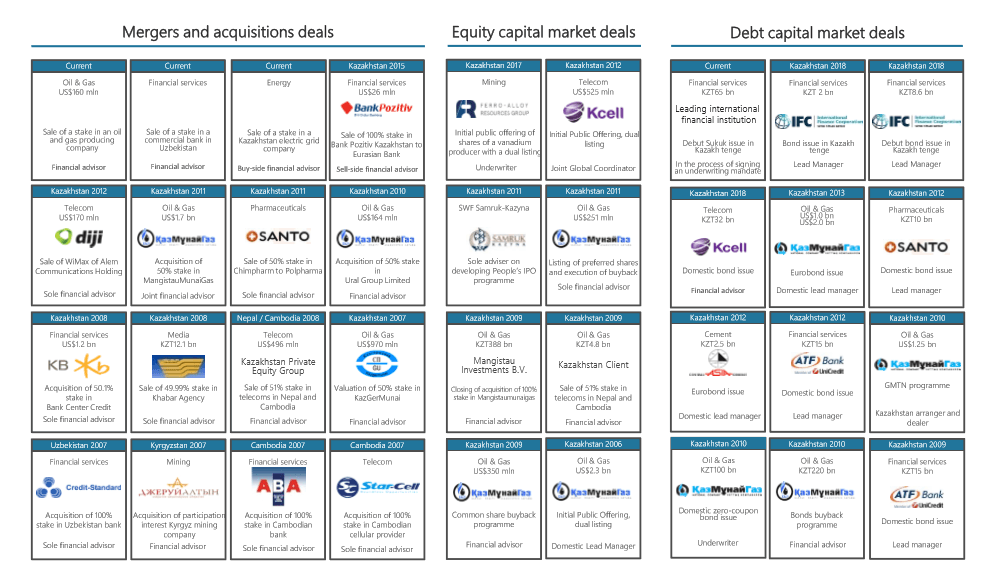 Tengri Capital's impressive client portfolio showcases partners from both the public and private sector of the regional economy. According to the firm's agenda, they would like to further expand by strengthening the already extensively international client base of investors, which would make Tengri Capital the most prominent financial powerhouse of the region in securities trading, investment banking, asset management and principal investing with international interests.
Services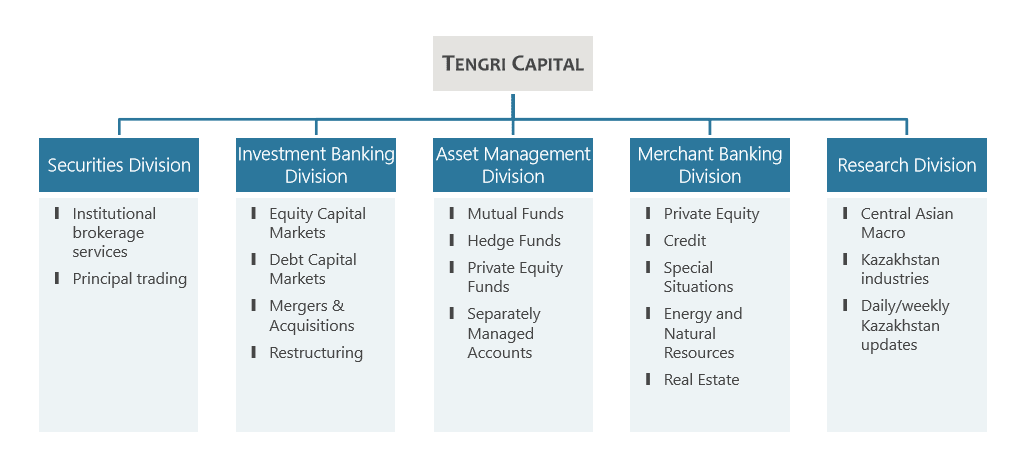 The firm's dynamic sales team is comprised of seasoned local and Western specialists, based in Almaty, London and Stockholm, with in-depth knowledge of capital markets activity and particular expertise in emerging markets and the CIS countries.
A multicultural team of professionals with extensive knowledge of international markets and local market specifics, having the unrivalled understanding of the local business environment, and excellent relationships with relevant regulators and authorities.
The strongest corporate finance team in Kazakhstan with proven track record on local and international market. Professionals combining local knowledge and international experience who can originate and execute a wide array of market transactions for local and international corporations.
The most recognized research team in Central Asia, covering a growing range of industry sectors through industry specific analysts and publishing a wide range of Research products. They go further than a regular research provider by arranging a holistic view of factors determining investment decisions such as local politics, economic landscape or taxation policies.
The most professional asset management team in Central Asia, applying the most modern investment analysis methods and tactical asset allocation styles based on risk factor, and offering a wide choice of portfolios, covering all major traditional asset classes, as well as alternatives.
Firms like Tengri Capital has the potential to kickstart Central Asia's further development by providing cutting-edge approach to investment in the region.