In terms of space, Central Asia has a lot of it.
With a com­bined land area of 3,926,790 square kilo­me­tres, the Five Stans cov­er 2.63 per­cent of the world's land­mass. Although that is an area far larg­er than India, Cen­tral Asia has a pop­u­la­tion den­si­ty of just eigh­teen peo­ple per square kilo­me­tre. India, by com­par­i­son, is 25 times as dense­ly pop­u­lat­ed. What is in all of that space in-between the peo­ple? What does the nat­ur­al world con­jure across Cen­tral Asia? In this arti­cle we take a trip to six of the most extra­or­di­nary cen­tres of the nat­ur­al (and unnat­ur­al) world of Cen­tral Asia, to dis­cov­er how the peo­ple of Cen­tral Asia are both shaped and shap­ing the vast envi­ron­ment around them.
Pamir Mountains (Tajikistan & Kyrgyzstan)
It makes sense to begin with the "Roof of the World" — the Pamir Moun­tains. Writ­ten about in the West since the time of Ptole­my, cen­turies ago three branch­es of the Silk Road used to cross the Pamirs. Whilst most of the range lies with­in Tajik­istan, its fringes seep into Afghanistan, Chi­na and Kyr­gyzs­tan. A diverse array of soci­eties live in semi-autonomous and autonomous areas of the moun­tains. Many are small nomadic com­mu­ni­ties of Tajiks, but size­able pop­u­la­tions live in small cities such as Khorog.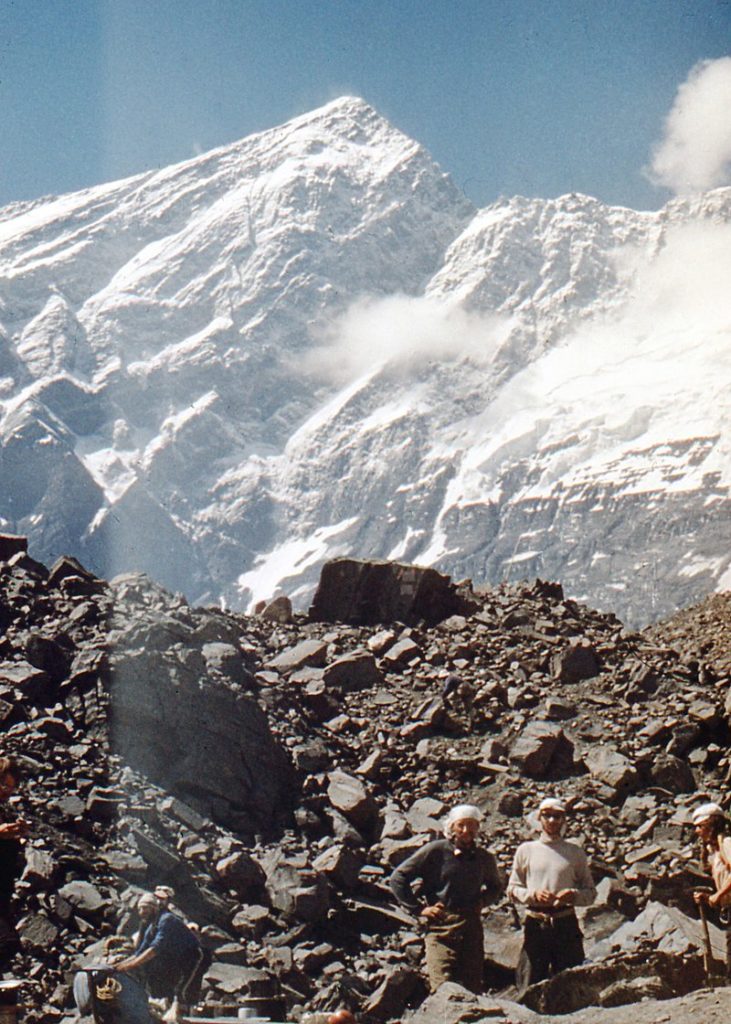 The tallest peak of the Pamirs — Kongur Tagh — is not in Cen­tral Asia, but Chi­na. Ismoil Peak is the high­est in the region, at a mod­est 7,495m — the fifti­eth tallest moun­tain in the world. For­mer­ly known as Peak Com­mu­nism, the moun­tain was more for­mer­ly still named after Joseph Stal­in, but gained its cur­rent name in the late twen­ti­eth cen­tu­ry to com­mem­o­rate the Samanid emir, Ismail Samani.
Gates of Hell (Turkmenistan)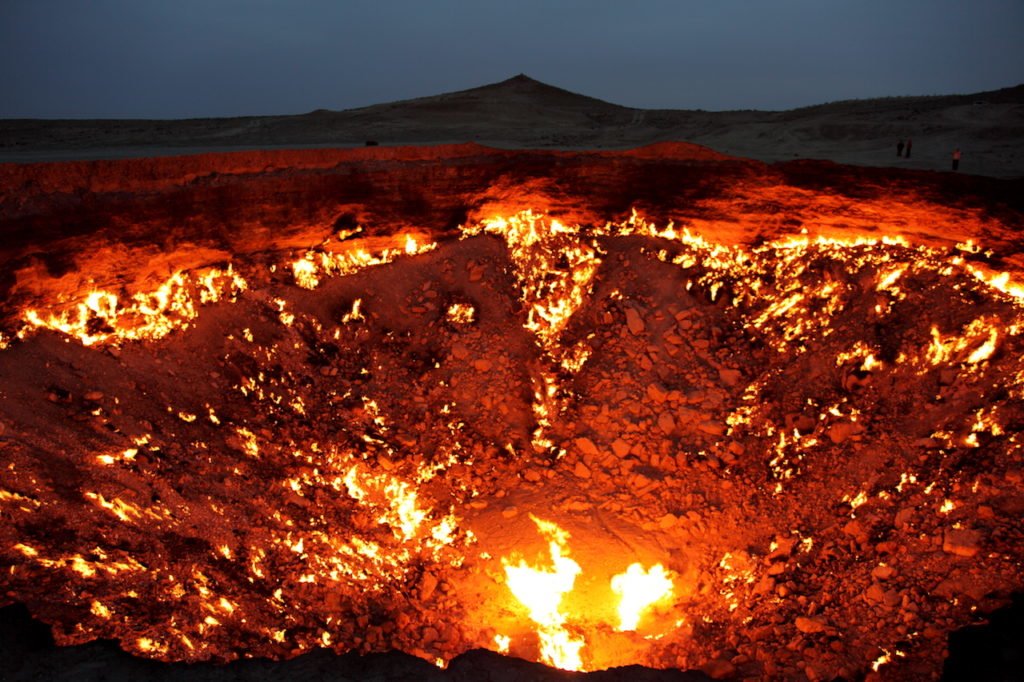 From the heights of heav­en, we jour­ney to the Gates of Hell. Yes, the door to the under­world can be found in Turkmenistan's Karakum Desert, 275km north of the country's cap­i­tal. The Dar­vaza Gas Crater emerged in 1971 fol­low­ing a Sovi­et drilling acci­dent. In an attempt to extract oil, engi­neers rup­tured a nat­ur­al gas pock­et unearthing an enor­mous crater, and swal­low­ing up the rig. Imme­di­ate­ly, tox­ic gas spewed from the 230 feet-wide crater and ani­mals in the area soon began to per­ish. In an attempt to cull the spread of methane, geol­o­gists opt­ed to set the crater on fire, and thus the Flames of Hell came to Earth. It is not unusu­al for gas craters to be set on fire but, usu­al­ly, they extin­guish with­in a few weeks, months, or at most, years; no one knows when, or even if the Dar­vaza Crater will stop burn­ing. Today, the Gates of Hell is a pop­u­lar tourist attrac­tion, which Google help­ful­ly informs us is "Open 24 Hours".
Aral Sea (Kazakstan and Uzbekistan)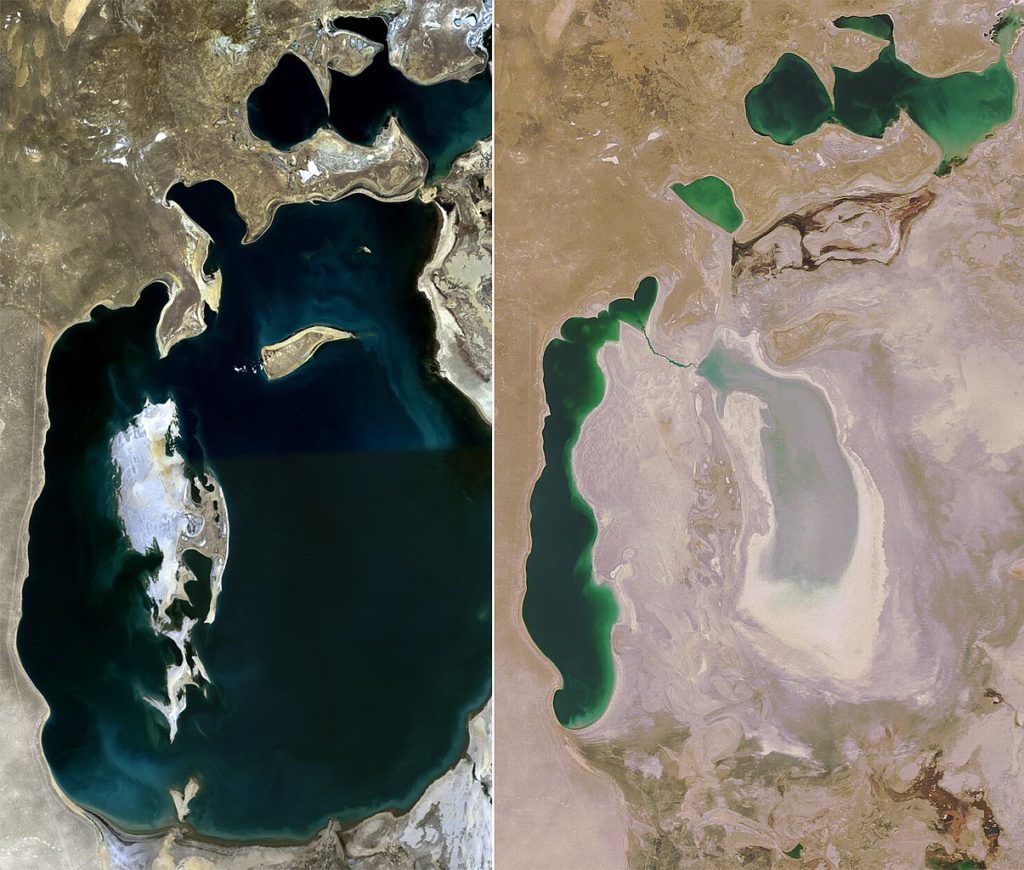 Tragedy hit Cen­tral Asia in the 1960s, in what many experts believe to be one of the great­est eco­log­i­cal dis­as­ters of all time. The Aral Sea was one the world's fourth-largest lake — the sec­ond largest in Asia. Cov­er­ing 26,000 square miles, it tru­ly was one of the nat­ur­al won­ders of the region, divid­ing a chunk of bor­der between Kaza­khstan and Uzbek­istan.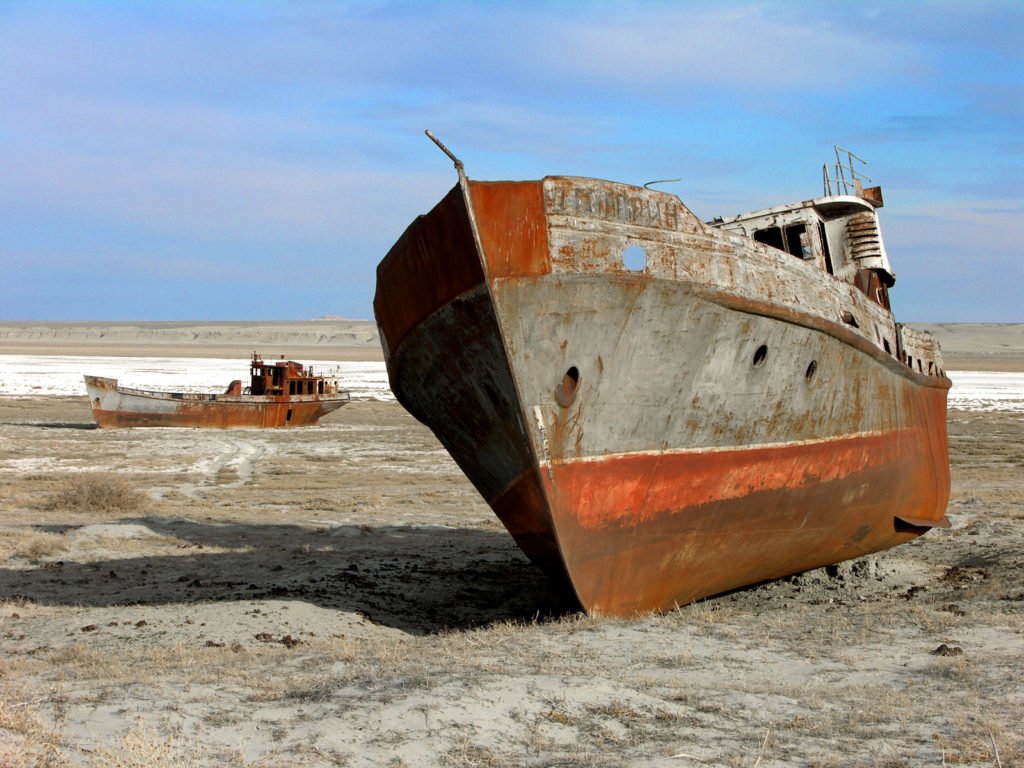 Today, that bor­der requires not a boat to cross, but feet. In the 1960s, as part of the Sovi­et eco­nom­ic plan to make Cen­tral Asia the world's largest pro­duc­er of cot­ton, the two great rivers of Cen­tral Asia were divert­ed for an irri­ga­tion project. The Amu Darya and the Syr Darya had fed the Aral, but cat­a­stroph­ic neg­li­gence rapid­ly deplet­ed the sea's water sup­ply. By 1990, the sea split in two, and by 2003, the depth had fall­en by 72 feet. Even­tu­al­ly, the Aral held just one-tenth of its orig­i­nal vol­ume. Fish­ing ports turned to bar­ren waste­lands and dust bowl­ing swept up sand and chem­i­cal residues from the now exposed seabed. Although a glob­al effort led by the World Bank has sought to rein­vig­o­rate the North­ern Aral Sea, many experts believe that the vast major­i­ty of this once great lake will remain bar­ren. The Aral Sea dis­as­ter pro­vides a stark and rather apoc­a­lyp­tic pre­quel to the world's loom­ing water cri­sis.
Fedchenko Glacier (Tajikistan)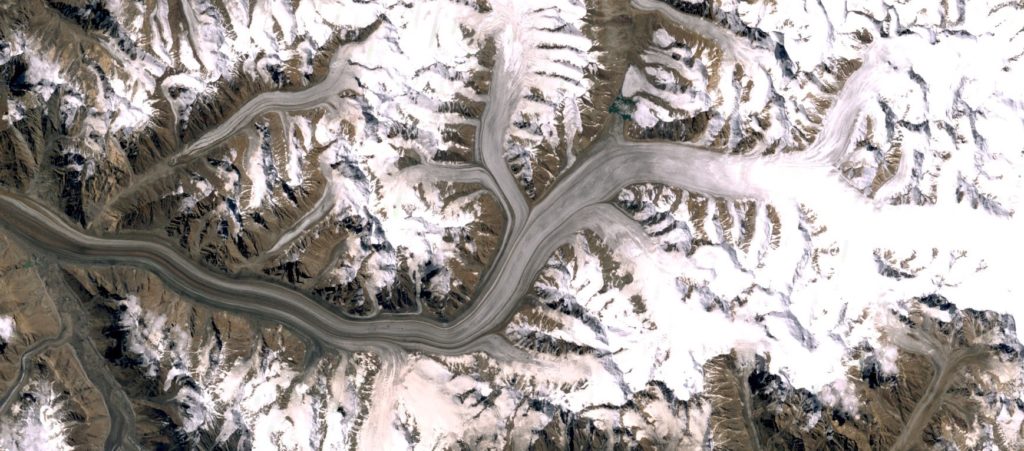 2000km away from the Aral is Fed­chenko Glac­i­er, the world's longest non-polar glac­i­er. First dis­cov­ered in 1878, it is by far the biggest glac­i­er in the Pamir range and its runoff even­tu­al­ly trick­les into what is left of the Aral Sea. The ice on Fed­chenko Glac­i­er, found in the east of Tajik­istan, is 1000m thick in parts and mea­sures 77km in length. Put in per­spec­tive, Canada's famous Athabas­ca Glac­i­er is just 7km long. The source of Fed­chenko is found in Gorno-Badakhshan province upon Rev­o­lu­tion Peak, the high­est point in the east­ern part of the Yazgulem Range.
Sharyn Canyon (Kazakstan)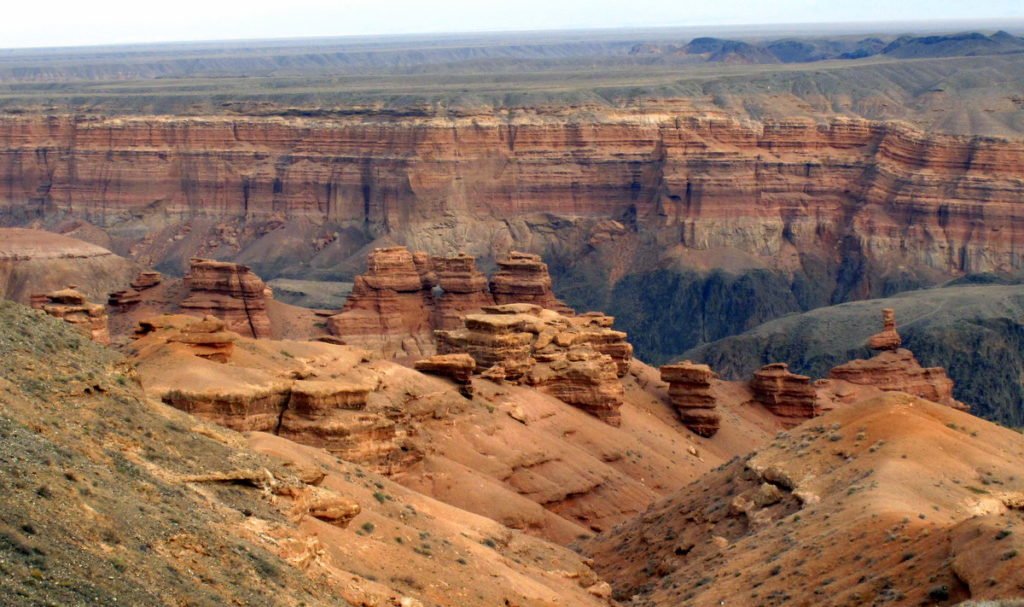 Close to the bor­der with Chi­na is one of Cen­tral Asia's more unusu­al sites: Sharyn Canyon. The val­ley began to be formed rather recent­ly — just 90 mil­lion years ago. Its most famous point—The Val­ley of Castles—provides the off the beat­en track tourist with some tru­ly epic pho­tos for their Insta­gram. Although it is dwarfed by the Grand Canyon for length, it is still near­ly 100km long, and holds some remark­able eco­log­i­cal sites. A pre­his­toric for­est, for exam­ple, con­tain­ing a large num­ber of Sog­di­an Ash, a par­tic­u­lar­ly rare species of Ash. Sharyn Canyon Nation­al Park is 120 miles east of Almaty and the stag­ger­ing views of the ancient dust-orange rock canyon walls are a key attrac­tion for Kazakstan's incip­i­ent tourist indus­try.
Chuy Valley (Kazakhstan)
Kaza­khstan is the alleged birth­place of cannabis, and in the Chuy Val­ley, 400,000 hectares have grown wild in amongst the Tien-shan moun­tains. Ever since the restric­tive drug poli­cies of the Sovi­et Union, this has been some­thing of a polit­i­cal headache; where­as nature was defeat­ed in the Aral Sea, the hardy nature of wild cannabis has allowed the crops to sur­vive mul­ti­ple erad­i­ca­tion attempts, mak­ing cannabis Kaza­khstan's most potent peren­ni­al weed. Under the cov­er of night, locals are known to descend into the val­ley to col­lect small quan­ti­ties of wild cannabis — which is famed for a low poten­cy and con­se­quent lack of hang­over effects. Large-scale har­vest­ing is inhib­it­ed by an annu­al police crack­down on efforts to organ­ise col­lec­tion efforts — as such, organ­ised crim­i­nals rub shoul­ders with bohemi­an enthu­si­asts, with no groups hav­ing a monop­oly on the region of nat­ur­al abun­dance.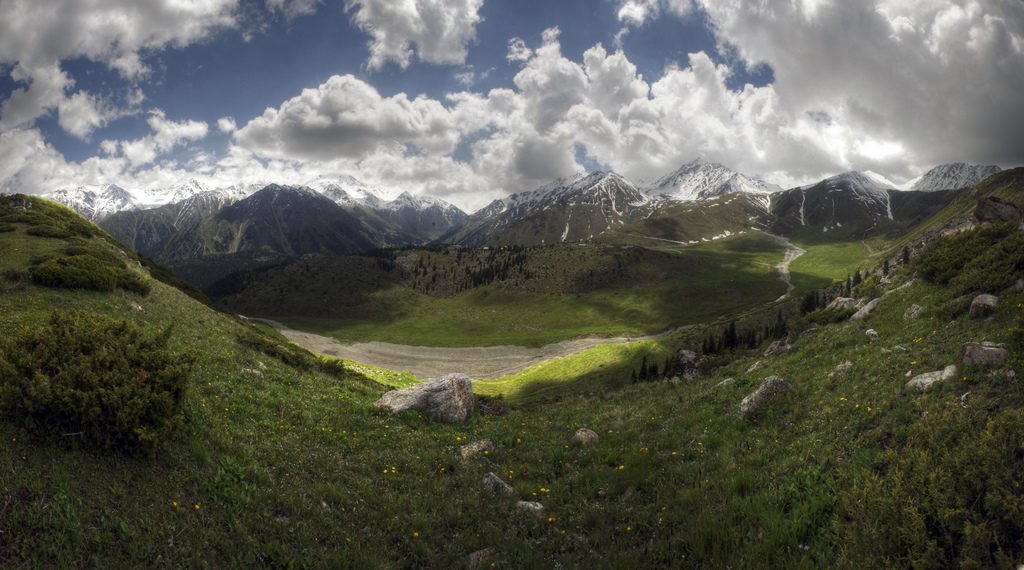 There is your heav­en to hell then — a whis­tle-stop tour of the nat­ur­al won­ders of Cen­tral Asia. Though it would rarely come to mind when we think of the epic of our nat­ur­al envi­ron­ment, Cen­tral Asia pos­sess­es some of the most remark­able exam­ples of the undis­cov­ered, the unbe­liev­able, and unfor­tu­nate­ly, the unnat­ur­al. Whilst the Dar­vaza Gas Crater is an exam­ple to poke fun at, the Aral Sea dis­as­ter is not. Per­haps the great mea­sure Cen­tral Asia's nat­ur­al won­ders is, then, humankind's utter­ly frag­ile rela­tion­ship to the nat­ur­al world.