Ironic travel, Central Asia, and earning a place on the map.
The cul­tur­al clout of the fam­ous 'Inter­na­tion­al Bri­gade' dur­ing the Span­ish civil war won, and con­tin­ues to win, a romantic niche in the sen­ti­ments of young artists and act­iv­ists. In 1961 the (then) young Cana­dian author, Leonard Cohen, saw in the anti-imper­i­al­ist fight of the nas­cent post-revolu­tion­ary Cuba a chance to ful­fil his inter­na­tion­al­ist duties as an artist. With little haste, he grew out a beard, bought some kha­kis, and boarded the next boat to Havana. But rather than vali­antly bat­tling the boats of United Fruit at the Bay of Pigs, Cohen quickly found him­self an unwanted access­ory to the streets of Havana — even­tu­ally pen­ning the mourn­ful poem The Only Tour­ist in Havana. Finally, an embar­rass­ing dip­lo­mat­ic tele­phone call from his moth­er war­ran­ted his return to Que­bec.
It was an odd link, but ming­ling with the char­ac­ters in the ex-pat hangouts of Bishkek, Cohen's words weighed some­what heavy in my mind as I slowly came to the real­isa­tion that, in the middle of March, we may well be the only people actu­ally hol­i­day­ing in a city whose archi­tec­ture Lonely Plan­et charm­ingly described as 'for­get­table'. Among the myri­ad people we met, it seemed that we were the only tour­ists in Bishkek.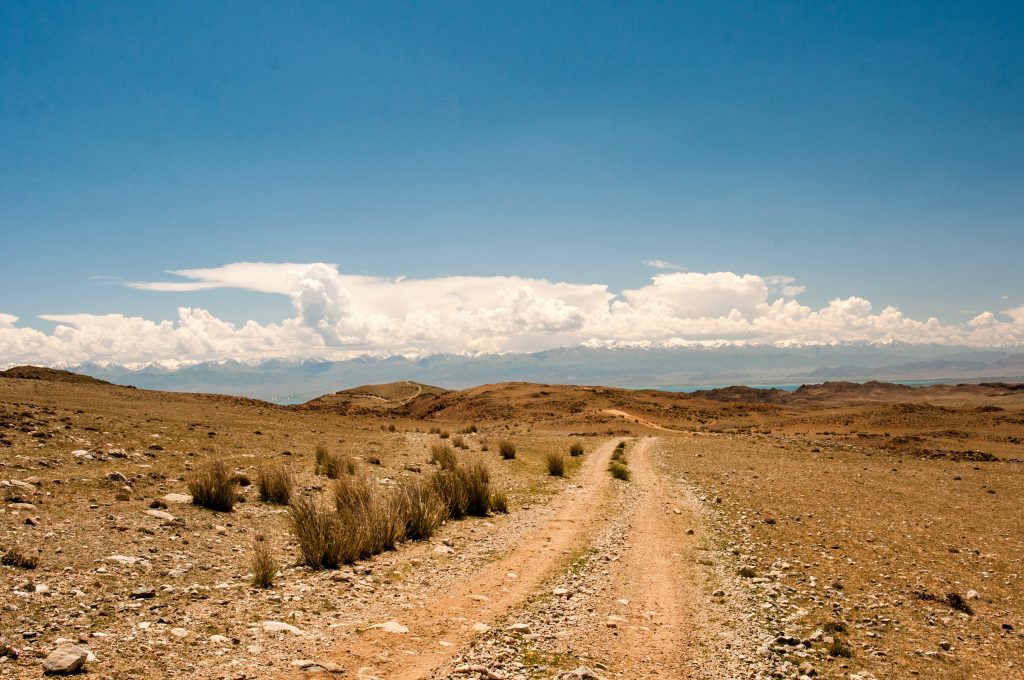 But this by no means brought the feel­ings of lonely mel­an­choly bur­den­ing Cohen. We were in a part of the map of which an aware­ness is quite lit­er­ally absent from the minds of most of our com­pat­ri­ots. This provided an enorm­ous sense of free­dom and dis­cov­ery. Kyrgyz­stan, as with most corners of Cent­ral Asia, remains unjustly unknown in Europe. Hence here we turn to the meta-nar­rat­ive of the art­icle; the pur­pose of the for­um, to build a time-neg­lected bridge between these two worlds. This cer­tainly isn't an argu­ment for cul­tur­al glob­al­isa­tion, mani­fest in a desire for a Hilton, Star­bucks, and McDonald's on every street corner from Astana to Osh — neither is it an attempt to weave fur­ther cob­webs of ste­reo­typ­ic­al nar­rat­ives sur­round­ing self-acclaimed 'deep travel' in the 'stans'. Rather, this is an ode to unfor­tu­nate unknown — what you make of it is up to you.
First, we have to ask ourselves why, along with her 'sis­ter stans', does Kyrgyz­stan remain unknown? Why is it that, in moments of silence, the rad­ic­al aston­ish­ment one has at the thought of actu­ally being there (let's go ahead and call these moments Kyrgyz­sten­tial crises) creeps up and leaves you nervously gig­gling?
We can turn first to polit­ics and the hangover of the Cold War. Most of the Cent­ral Asi­an repub­lics only gained inde­pend­ence from the USSR in the early 1990s — thou­sands of years of his­tory had been sub­sumed in a couple of cen­tur­ies of Rus­si­an rule: not only had the alpha­bet become Cyril­lic and the city design Soviet, but the area had been effect­ively off lim­its to those west of the Ber­lin wall. Con­sequently, the coun­tries of Cent­ral Asia have only had a hand­ful of years to imprint them­selves on the inter­na­tion­al con­scious­ness, and some have had little agency in fash­ion­ing that imprint (take the free tick­et the 'ori­ent unknown' ele­ment has gran­ted shows from The Ambas­sad­ors through to Bor­at, or the go-to stor­ies about the amus­ing lives of cer­tain dic­tat­ors).
Polit­ics goes hand-in-hand with geo­graphy. Whilst tour­ists are often happy to take the long flights out to tour­ist hot­spots of the Thai­l­and-Viet­nam mould, the brute fact that coun­tries like Kyrgyz­stan are far away from highly-pop­u­lated areas makes the trip out either an ordeal of con­nect­ing flights or one hell of a drive.
It's, there­fore, an eso­ter­ic rag-tag bunch that make it out. There are the lost busi­ness people, sent out by head offices to check on region­al affairs, float­ing in flan­nel suits to the only estab­lish­ments that sell a suit­ably safe West­ern­ised cap­puccino (thus neg­at­ing the bur­geon­ing loc­al artis­an­al cof­fee scene) and wait for the return flight. There are of course the loc­als — amongst them a cos­mo­pol­it­an youth with impec­cable Eng­lish and a pen­chant for the ques­tion, "How come you guys are in Kyrgyz­stan? It's not even the sum­mer".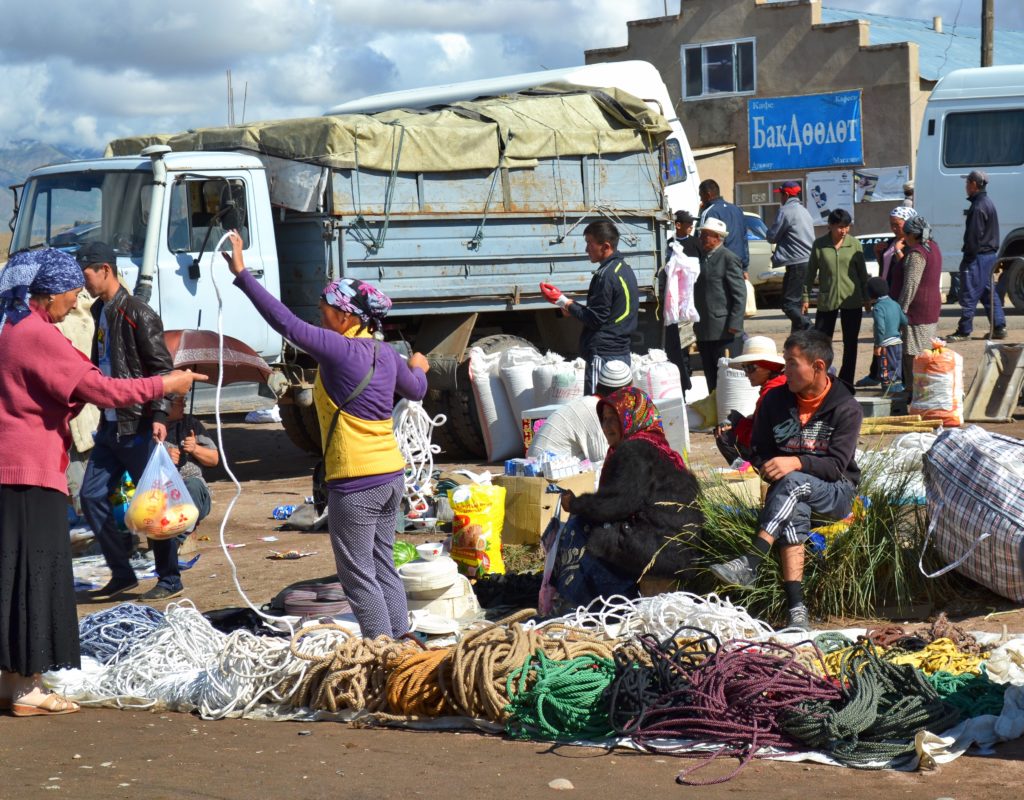 In addi­tion to the loc­als, there are the cul­tur­ally-loc­al, say, Rus­si­ans tak­ing the trip to their sum­mer house by Lake Song Kul, or under­tak­ing a sec­tion of their stud­ies. Then there are those dragged there by the winds of fate — to whom a job oppor­tun­ity, a desire to escape, or even brute chance, has thrown an atyp­ic­al par­cel of land in what to most people is 'nowhere'. Mari­on, a young French woman, was a neat micro­cosm of this last cat­egory. After grow­ing tired of teach­ing French in the UK, she cut up each coun­try in the world, placed the names into a hat and pulled out Kyrgyz­stan. True to form, she took up a post teach­ing Eng­lish, and set out to pass two years in Bishkek.
Unavoid­able (although not­ably absent in the final breaths of winter) are the infam­ous 'adven­tur­ers' — with Tibetan garms, fledgeling dread­locks, and dreams of fol­low­ing the craggy moun­tains of the 'Silk Road' — they neatly pil­lar blogs with stor­ies of adven­tures in the nomad­ic steppe of post-Sovi­etistan. It would be unfair to be so blindly acerbic to this lat­ter band, they can be as saga­cious as they are sanc­ti­mo­ni­ous by way of travel. Finally, there is the small col­lec­tion of trav­el­lers there on a sim­il­ar premise to ours — an iron­ic jour­ney into the unknown — a small attempt to make a facetious answer the ques­tion mark nestled south of Rus­sia and west of China, if only because it is a ques­tion.
This is why we should be inter­ested in tak­ing the trip to Kyrgyz­stan. I can­'t help but indulge in sub­ject­ive exper­i­ence — as a com­pre­hens­ive answer would require far more room for starry-eyed diatribes. Put simply, there are the pos­sib­il­it­ies for per­eg­rin­a­tions in the present, and poten­tial paths for for­ging a fas­cin­at­ing future. Chi­hoon, a Korean man who has spent his last six years in Bishkek, is per­haps the best embod­i­ment of this man­tra. He saw in Kyrgyz­stan the oppor­tun­ity to cre­ate a com­munity hub based around good food (Korean chick­en, and recently, a café), music, art and dance. In doing so, he has sought to enact a cul­tur­al move­ment from the ground-up, so as to pre­vent Kyrgyz city cul­ture fall­ing into the clutches of cor­por­ate hege­mony — what he calls the Almaty-isa­tion of Kyrgyz­stan. The pro­ceeds of his res­taur­ant sup­port loc­al artists, entre­pren­eurs and per­form­ances. How­ever, the open mic nights of a nas­cent inter­na­tion­al scene with­in Bishkek rep­res­ents only a small por­tion of what Kyrgyz­stan offers the trav­el­ler. As a beau­ti­ful coun­try with rugged moun­tain­ous ter­rain, wild­flowers in the high grassy jaloos, fas­cin­at­ing cul­tur­al quirks, and glassy Alpine lakes; Kyrgyz­stan could cater to the taste of any tour­ist; espe­cially in the reals of adven­ture travel.
Yet, to open up to the world, a num­ber of steps will need to be taken — and a num­ber of murky risks lay loath­some in the fore­see­able future. Sur­pris­ingly, blow­ing away typ­ic­al ste­reo­types need not be one of them; tour­ism may well thrive off the mys­ter­i­ous mud­dling of facts and fic­tions — and keep­ing the romance of the moun­tain­ous steppe alive, as in the nov­els of Chinghiz Ait­matov, may well pay dividends in bring­ing in won­der­ing wan­der­lust trav­el­ers. A real threat will for the domest­ic own­er­ship of 'open­ing up'. If open­ing the doors to the world is to ostens­ibly bene­fit the people of Kyrgyz­stan, then move­ments to accom­mod­ate the new trade — from horse­back travel to alpine boat­ing — should come from the people them­selves, and not inter­na­tion­al con­glom­er­ates and for­eign investors.
It's cliché to expound the 'hid­den gems' with­in cent­ral Asia — but as a sen­ti­ment it is also entirely just. One hopes that one day the ques­tion will shift from "how come you guys are in Kyrgyz­stan?" to "so, when will you next be in Bishkek?".