Unsur­pris­ingly, things changed in Cent­ral Asia after the end of the USSR. Like Rus­sia, industry was privat­ised and mar­ket cap­it­al­ism embraced. How­ever a less obvi­ous trans­ition is the uptake in Islam­ic fin­ance (IF) facil­it­ies, both as a com­mer­cial source of invest­ment and liquid­ity, and private bank­ing ser­vices.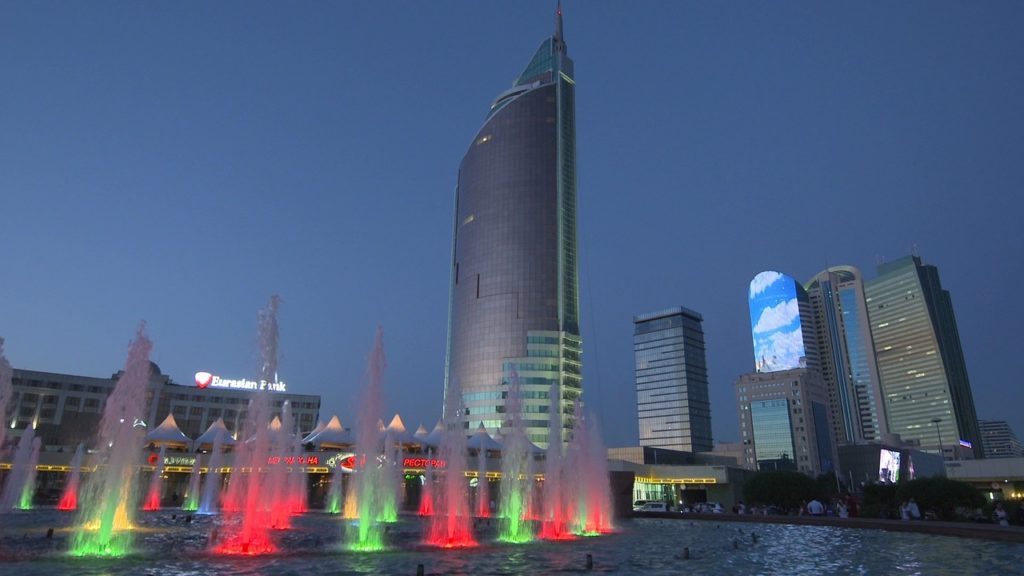 Accord­ing to Reu­ters, Islam­ic fin­ance growth world­wide has been double-digit since 2000, and this trend is mani­fest­ing in Cent­ral Asia with the emer­gence of new facil­it­ies and incor­por­a­tion into wider glob­al IF net­works. Islam­ic fin­ance is struc­tured by, and com­plies with, sharia law — espe­cially in con­sid­er­a­tion to the goods and ser­vices it funds (for example, pork or alco­hol) and the pro­hib­i­tion of par­tic­u­lar forms of interest. These insti­tu­tions have grown in tan­dem with a glob­al reviv­al of Islam­ic iden­tity since the late twen­ti­eth cen­tury, and a dis­il­lu­sion­ment with 'west­ern' bank­ing forms and the per­ceived reg­u­lar­ity of their fail­ure to suc­cess­fully under­write risk. In tan­dem, the Soviet policy of reli­gious sup­pres­sion once enforced in Cent­ral Asia was lif­ted after inde­pend­ence, cre­at­ing a region­al renais­sance of Islam­ic obser­va­tion and expres­sion across this Muslim major­ity region, which fur­ther facil­it­ates the enthu­si­ast­ic embrace of IF.
To vary­ing degrees oth­er Cent­ral Asi­an nations have embraced Islam­ic fin­ance (most not­ably Kyrgyz­stan), but Kaza­kh­stan leads the way in the devel­op­ment of IF. In 2009 Kaza­kh­stan became the first former-Soviet nation to issue IF guidelines, and in 2010 the first Islam­ic fin­an­cial insti­tu­tion — Al Hilal Bank — was gran­ted a license to trade through an inter­gov­ern­ment­al agree­ment between Kaza­kh­stan and Abu Dhabi. Since then, a pre­vi­ously con­ven­tion­al bank — Zaman — became an inter­na­tion­ally recog­nised Islam­ic Fin­ance insti­tu­tion, and in 2015 the gov­ern­ment out­lined its policy object­ives for the future of IF, with optim­ist­ic tar­gets set for 2020. Kaza­kh­stani gov­ern­ment­al sup­port for Islam­ic Fin­ance has included grow­ing mul­ti­lat­er­al cooper­a­tion with more estab­lished IF reg­u­lat­ory bod­ies, includ­ing the Islam­ic Fin­an­cial Ser­vices Board (IFSB), the Account­ing and Audit­ing Organ­isa­tion for Islam­ic Fin­an­cial Insti­tu­tions (AAOIFI), and the Inter­na­tion­al Islam­ic Fin­an­cial Mar­kets (IIFM). Fur­ther­more the Islam­ic Devel­op­ment Bank (IDB) has com­mit­ted to fin­an­cing invest­ment in infra­struc­ture and indus­tri­al pro­jects val­ued at $1.5 bil­lion, demon­strat­ing the impact of glob­al IF net­works.
Undoubtedly, the com­par­at­ively recent rein­sti­tu­tion of Islam across Cent­ral Asia has con­trib­uted massively to the uptake of Islam­ic fin­ance, a new reli­gi­os­ity (not neces­sary con­fined to Islam) equally per­vad­ing the pop­u­la­tion and the insti­tu­tions that uphold these society's struc­tures. How­ever more prag­mat­ic inter­pret­a­tions of IF's rise in the region have been mooted by for­eign schol­ars. Sebasti­an Peyrouse high­lights the poten­tial polit­ic­al bene­fits accrued by estab­lished Islam­ic states (includ­ing the Gulf States and Malay­sia) through the use of IF as a vehicle for closer eco­nom­ic, polit­ic­al and religious/ideological rela­tions. On the oth­er hand Dav­in­ia Hog­garth at Chath­am House high­lights IF as part of a wider 'multi-vec­tor' strategy which, in Kaza­kh­stan espe­cially, seeks to reduce eco­nom­ic reli­ance on any single for­eign part­ner by embra­cing invest­ment from a max­im­um num­ber of sources. Although cur­rent estim­ates sug­gest that Islam­ic fin­ance is of min­im­al scale in Cent­ral Asia, the con­sequences of its growth undeni­ably are not lim­ited to com­mer­cial and fin­an­cial interests, and IF's growth will surely be tracked intently by inter­na­tion­al busi­nesses and gov­ern­ments alike.
Observ­ers must be real­ist­ic when not­ing this upwards IF trend. After all, even as the Cent­ral Asi­an nation with the deep­est rela­tion­ship with Islam­ic fin­ance, Kazakhstan's tar­get for total IF bank­ing assets by 2020 is only 3 – 5 per­cent of the nation­al , while IF assets today make up only one per­cent. How­ever Reu­ters' out­look for Islam­ic fin­an­cial invest­ment ranks Astana as a top rank des­tin­a­tion, with mul­tiple inter­na­tion­ally trad­ing banks includ­ing Al Baraka and May­Bank show­ing interest in Kazakhstan's bour­geon­ing Islam­ic fin­ance mar­kets. The major­ity-Muslim pop­u­la­tion of Cent­ral Asia is cur­rently an untapped cus­tom­er base for IF insti­tu­tions, while gov­ern­ments across the region are real­ising the invest­ment oppor­tun­it­ies of IF as an altern­at­ive to Rus­si­an and Chinese sources. Though young, Islam­ic fin­ance seems likely to expand through­out Cent­ral Asia in the com­ing years.