A sto­ry of mass move­ments through­out Cen­tral Asia, by Niko­lai Klassen.
Not only is Rus­sia a rid­dle, wrapped in a mys­tery, inside an enig­ma: frag­ments of the puz­zle are also repli­cat­ed and reca­pit­u­lat­ed through­out Cen­tral Asia, with the five 'stans' all bear­ing idio­syn­crasies that point to a past as rich and unpre­dictable as the present. Let me address one such mys­tery: why, like myself, are there so many Ger­man-Kaza­khs? Nowa­days, Ger­mans rep­re­sent a size­able minor­i­ty in each Cen­tral Asian coun­try, for exam­ple, there are still 179,476 eth­nic Ger­mans dwelling in Kaza­khstan. How­ev­er, eth­nic Ger­mans only began to form a size­able chunk of Kazakhstan's demog­ra­phy short­ly after 1941. So, why did so many Ger­mans go to Cen­tral Asia? And what does my grand­moth­er have to do with this story?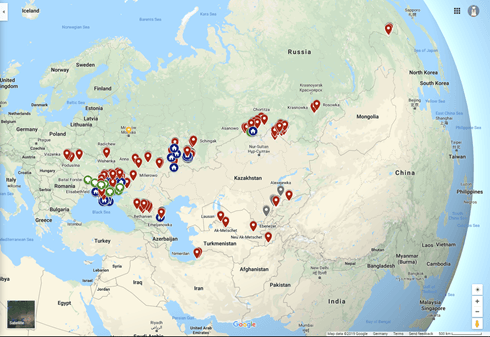 Like my grandmother's fam­i­ly, many Ger­man speak­ing set­tlers moved east in search of oppor­tu­ni­ties off the back of Russia's devel­op­men­tal efforts. Under Ivan II (1462–1505) some experts, such as doc­tors, archi­tects, and mil­i­tary offi­cers migrat­ed to Rus­sia. At the time of Peter the Great (1682–1725), Ger­mans increas­ing­ly began set­tling along the Vol­ga Riv­er in sig­nif­i­cant num­bers. Anoth­er fig­ure dri­ving Ger­man Migra­tion in Rus­sia was Kathrine the Great. In 1762, she invit­ed Ger­man farm­ers and crafts­peo­ple to Rus­sia to help mod­ern­ize her coun­try, giv­ing them land, reli­gious free­dom, excep­tion from mil­i­tary ser­vice and tax exemp­tions. Escap­ing high tax­es and polit­i­cal ten­sions in the Holy Roman Empire and lat­er Prus­sia, most came to lay the foun­da­tions for new set­tle­ments. Some 30,000 arrived in the first wave between 1764 and 1767 and they had a pro­found impact on improv­ing Rus­si­a's agri­cul­tur­al out­put. More start­ed com­ing after 1789 and they kept com­ing until 1863. Most of them were Catholics or Men­non­ites seek­ing reli­gious free­dom, a new place to set­tle and polit­i­cal sta­bil­i­ty. As they swept down to Russia's east­ern and south­ern bor­ders, the first Ger­man set­tlers arrived in mod­ern-day Kaza­khstan by the end of the 18th cen­tu­ry. In due course, Ger­mans found­ed their first per­ma­nent set­tle­ment in 1785, called Friedens­feld. Dur­ing the peri­od of the Sto­lian reforms in 1905—1911, Ger­mans had already formed towns such as Alexan­der­tal, Alte­nau, Königs­gof, and Pug­ger­hof. The migra­tion did not stop there though: Ger­man set­tlers even tried to reach as far as Azer­bai­jan in the 1930s. The rea­son: increas­ing hos­til­i­ty and dis­trust direct­ed against the set­tlers due to the polit­i­cal cli­mate in Ger­many at that time. This time, Men­non­ites have been sus­pect­ed not because of their reli­gion but because of their nationality.
His­to­ry is rarely kind, and World War II is known for its force­ful relo­ca­tions with­in the Sovi­et Union. Most of the Ger­mans were off­spring of Vol­ga Ger­mans, who lived in the Vol­ga Ger­man Autonomous Sovi­et Social­ist Repub­lic locat­ed in Rus­sia, or the Black Sea Ger­mans, who lived in Ukraine and Crimea. This demo­graph­ic spread reached an abrupt end­ing dur­ing the ear­ly 1940s; with forced relo­ca­tion to Kaza­khstan being ini­ti­at­ed in July 1941, after Hitler declared war on the Sovi­et Union. More­over, Stal­in ini­ti­at­ed a state of emer­gency: Ger­mans were declared spies a pri­ori, a deci­sion which result­ed in all work­ing-age men (15–85) being con­fined to Sovi­et Labour camps – the so-called gulags. Accord­ing the Sovi­et Gov­ern­ment, a decree to relo­cate the Ger­mans was imposed because:
"Among the Ger­man inhab­i­tants, who live in the Vol­ga Region, are thou­sands and ten thou­sand of sabo­teurs and spies who are await­ing a sig­nal from Ger­many to exe­cute explo­sions in oth­er regions, but also against their own people."

In the course of the depor­ta­tion, my grandun­cle and my great-grand­fa­ther were sent to two dif­fer­ent gulags near­by Archangel­sk to work in a forestry sta­tion in pitch-black win­ters and all-day sum­mers. For­tu­nate­ly, they were work­ing as doc­tors and were impor­tant for the camps' over­seers. They were able to sur­vive the extreme tem­per­a­tures and harsh labour con­di­tions, and were lucky not to have been sent to an even-more puni­tive camp, where their med­ical skills may not have been called upon.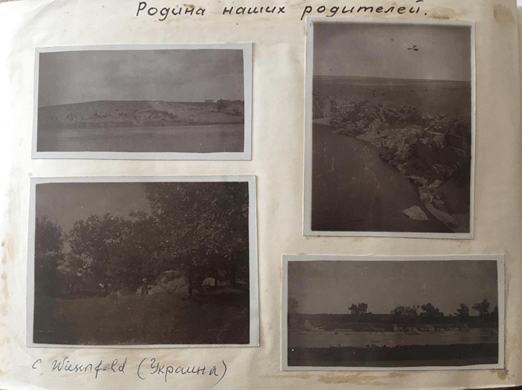 Offi­cial­ly, peo­ple were nev­er deport­ed: they were brought to safe towns, away from the front­lines. The areas to "spread" the Ger­mans across the coun­tries were areas, such as the Altai region (650,000 re-locat­ed), the Qaraghandy region (500,000), Kyr­gyzs­tan and Tajik­istan (both home for 70,000 Ger­mans). The regions where Ger­mans were spread gen­er­al­ly had a low pop­u­la­tion den­si­ty and a demand for work­ers in agri­cul­ture and min­ing. The labour short­age arose from the huge demand for troops to send to the Sovi­et front­line, leav­ing many Cen­tral Asian towns stripped of their male pop­u­la­tions. As Ger­man set­tlers were sus­pect­ed to be spies and sabo­teurs, the author­i­ties saw fit to keep an eye on them and extract their pro­duc­tive ener­gy through keep­ing them in tight­ly-con­trolled labour camps. In addi­tion to forced labour, Ger­mans in the Sovi­et Union were sub­ject to forced assim­i­la­tion, such as through the pro­hi­bi­tion of pub­lic use of the Ger­man lan­guage and edu­ca­tion in Ger­man, the abo­li­tion of Ger­man eth­nic hol­i­days and a pro­hi­bi­tion on their obser­vance in pub­lic. Not only were Ger­mans stripped of their lan­guage and cul­ture, they were often open­ly dis­crim­i­nat­ed against and pub­licly mocked. At around this part in our sto­ry, my Grand­moth­er, then a young girl, was mak­ing her way across the frozen mid­win­ter Steppe in a cat­tle wag­on. In 1941, she, her moth­er, and oth­er 38 peo­ple put into the wag­on were forcibly relo­cat­ed to Seren­da (Зеренда, nowa­days in Kazakhstan).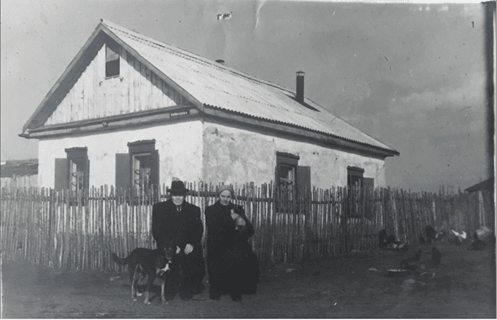 Sup­pres­sion of eth­nic Ger­mans in the Sovi­et Union did not end with the Sec­ond World War. Though some Ger­mans were able to live unof­fi­cial­ly in Ger­man com­mu­ni­ties in tows they've been sent to, their cul­ture had to remain hid­den: still, they were able to secret­ly hold holy ser­vices, speak Ger­man, and cel­e­brate Ger­man hol­i­days. In 1949 most Ger­mans were final­ly released from the labour army, although no pub­lic apol­o­gy or excuse was giv­en for the 4‑year delay. In August 1964 the Sovi­et Gov­ern­ment final­ly began reha­bil­i­tat­ing the Ger­mans to their pre-war set­tle­ments. Accord­ing to the new­ly appoint­ed pres­i­dent Bresh­nev, the accu­sa­tions against were not jus­ti­fied, and a ter­ri­ble mis­take had been made. How­ev­er, most chose to stay on in Cen­tral Asia, and only a few returned to the Vol­ga area. Oth­ers trav­elled around and went where they could find employ­ment. Oth­ers still tried to claim their pre-war homes, even though they lost the right to do so. After 1964, the Ger­man pop­u­la­tion became dis­persed and mobile — find­ing new homes and shap­ing new iden­ti­ties. The num­ber of Ger­mans involved in agri­cul­ture declined while those occu­pied as aca­d­e­mics and teach­ers rose, as those liv­ing in the coun­try moved to the cities. In that process Ger­mans final­ly man­aged to blend into their milieu, los­ing their cul­tur­al unique­ness as their lan­guage, arts, cus­toms were becom­ing more and more Rus­si­fied. Many Ger­mans moved in among non-Ger­mans and start­ed fam­i­lies with peo­ple of oth­er eth­nic descents. The trend towards urban­iza­tion also caused a drop in the birth-rate and the size of Ger­man fam­i­lies, which had been erst­while char­ac­ter­ized by high birth rates. By 1991 less than half of the Ger­man Rus­sians claimed Ger­man as their first lan­guage, and instead regard­ed Russ­ian as their moth­er tongue.
The hor­rors of depor­ta­tion and the tragedy of Stal­in­ist cul­tur­al sub­ju­ga­tion became far bet­ter known through his­tor­i­cal stud­ies dur­ing the 1980s and 1990s, after the Sovi­et Union fell apart. Most of the remain­ing eth­nic Ger­mans emi­grat­ed to Europe and beyond, with a major­i­ty opt­ing for Ger­many. In 1990, after my Grand­fa­ther returned from a vis­it to Cana­da, he and my grand­moth­er decid­ed to move to Ger­many, where they felt they would be treat­ed as equals. From there they invit­ed oth­er parts of my fam­i­ly and final­ly also my father and my moth­er, who was preg­nant with me while moving.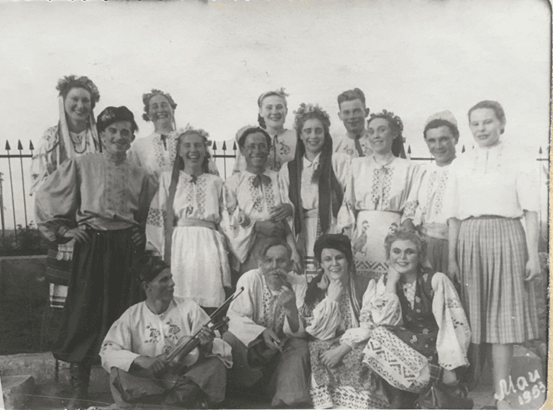 In 1990, there were around 2.9 mil­lion eth­nic Ger­mans in the Sovi­et Union, of which only 41% resided in mod­ern-day Rus­sia. The rest were spread through­out Cen­tral Asia and the Cau­cus­es, with 47% being based in Kaza­khstan, 5% in Kyr­gyzs­tan, and 2% in Uzbek­istan and Tajik­istan. As these pop­u­la­tions either blend­ed into their cul­tur­al wood­work, or made their way to Ger­many, these pop­u­la­tions have fall­en to about 1/3rd of their orig­i­nal size. Yet their foot­print lingers on in count­less aspects; so, should you ever find your­self North of Astana and notice rock-hard dark breads curi­ous­ly sim­i­lar to Ger­man pumper­nick­el, please spare a thought for my Grand­moth­er who, like so many oth­er Sovi­et-born Ger­mans, has left a last­ing mark on Cen­tral Asia's demography.