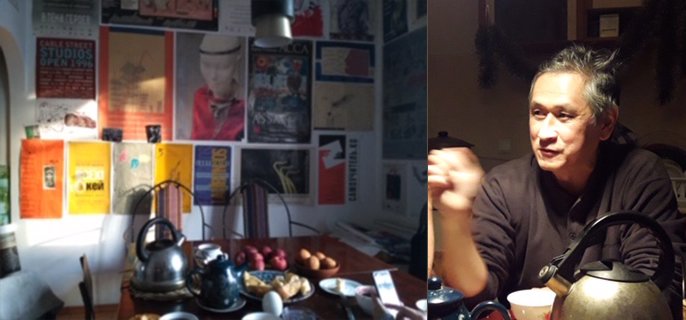 A lead­ing fig­ure of Bishkek's post-Soviet arts scene: CAF inter­views Ulan Dja­p­arov as the latest instal­ment in the Cre­at­ive Bishkek series.
Ulan Djaparov is seen by some as the godfather of modern and contemporary art in post-Soviet Bishkek.
Along­side found­ing a con­tem­por­ary art and archi­tec­ture space, Stu­dio Museum, he is a driv­ing force of the city's recent artist­ic boom through his work on social media – primar­ily as the admin­is­trat­or of the influ­en­tial Face­book group Cent­ral Asi­an Pavil­ion of the Con­tem­por­ary Art.
What is Stu­dio Museum and why did you cre­ate it?
The archi­tec­tur­al stu­dio Museum has a long his­tory. In 2018, we cel­eb­rated the 20th anniversary of the studio's offi­cial status and the thirty-first anniversary of the cre­ation of the group Museum. Dur­ing this time, there have been sev­er­al gen­er­a­tions of 'stu­dioists'.
Nat­ives of the stu­dio are now work­ing in vari­ous cit­ies in the world – from Vla­divos­tok to Cologne, and from Moscow to Auck­land. The spe­ci­al­ity of our stu­dio is that, in addi­tion to archi­tec­tur­al pro­jects, we are also engaged in pro­jects in the field of con­tem­por­ary art, as well as per­son­al artist­ic prac­tices. Anoth­er emphas­is of our stu­dio is seen through our wide net­work with oth­er artists through­out Cent­ral Asia, as well as people from dif­fer­ent fields (non-gov­ern­ment­al organ­isa­tions, busi­ness­men, etc) who are inter­ested in art.
How much has the con­tem­por­ary art scene in the city changed in the last few years and how have you con­trib­uted?
Mod­ern and con­tem­por­ary art as a phe­nomen­on appeared in Kyrgyz­stan rel­at­ively recently — a little more than 20 years ago. Ori­gin­ally, there was not a single art insti­tu­tion or offi­cial centre for con­tem­por­ary art. Everything was done on per­son­al enthu­si­asm. The museum and I, as the cur­at­or of many of the first exhib­i­tions, were among the sev­er­al ini­ti­at­ors of this pro­cess.
Nowadays there are a couple of gen­er­a­tions of young artists and art act­iv­ists, with new ideas and forms of exist­ence. Of course, there are some minor dif­fer­ences between groups – the gen­er­a­tion of 35 to 40-year-olds still remem­ber the Soviet era, the dif­fi­culties of the 90s and so on. The gen­er­a­tion of 20 to 25-year-olds is already very dif­fer­ent – they are more mobile, prac­tic­al, not so tied to 'old' val­ues.
Non­ethe­less, everything still depends on the per­son­al drive of artists in Bishkek, inso­far as the com­mer­cial art is itself out of reach, Bishkek's mod­ern art scene is still led by the artists' per­son­al interest and desire to put for­ward chal­len­ging ideas.
Do you par­ti­cip­ate in oth­er pro­jects in the city, and if so, which ones?
Our stu­dio Museum is quite spe­cif­ic, and has been since its cre­ation. We mainly cooper­ate with good friends who have inter­est­ing ideas and we help them to design and visu­al­ise them their ideas archi­tec­tur­ally. Ideally, we help them to real­ise what is not always pos­sible. Often, this is the devel­op­ment of archi­tec­tur­al con­cepts. In addi­tion, some­times we organ­ise exhib­i­tions of con­tem­por­ary art.
We cooper­ate with young, but also more exper­i­enced, artists from all over Cent­ral Asia. A few years ago, I was the edit­or-in-chief of the Cent­ral Asi­an alman­ac Kur­ak (art and soci­ety). Recently, we began to cooper­ate with some NGOs. For example, we are devel­op­ing and recom­mend­ing on 'set­ting mod­els of a safe edu­ca­tion­al envir­on­ment with the help of design in pilot schools of Kyrgyz­stan'.
What is the role of mod­ern cul­ture in the devel­op­ment of Kyrgyz­stan?
The situ­ation is inter­est­ing. Every­one has a dif­fer­ent under­stand­ing of what mod­ern cul­ture is. Some appeals to some kind of archa­ic or purely nation­al forms and wrap them in mod­ern pack­aging, oth­ers try to relay to us 'uni­ver­sal cul­tur­al val­ues' (but often this is the res­ult of work­ing off grants, or for mar­ket­ing pur­poses), while again someone else is look­ing for/creating a cul­ture at the junc­tion between our real situ­ation and spe­cif­ic and mod­ern form.
Mean­while, there is a large lay­er of reli­gious cul­ture in the back­ground, which is becom­ing increas­ingly pro­nounced every year. Mod­ern cul­ture has only really taken form in the urb­an space, as the pop­u­la­tion of the city has greatly changed since the 1990s.
How import­ant is cooper­a­tion between cre­at­ive people in the city?
I think that the concept of cre­at­ive people is some­what broad and vague, but the pro­cess of cooper­a­tion itself is inter­est­ing and this is almost our only oppor­tun­ity to do some­thing inter­est­ing here in our cur­rent situ­ation. And if earli­er there was some tight­ness in dif­fer­ent social groups and strata, now there is a cer­tain interest in inter­dis­cip­lin­ary pro­jects and cooper­a­tion.
How is Bishkek chan­ging? Are these changes primar­ily pos­it­ive?
Bishkek is chan­ging a lot; some people see this as pos­it­ive, while oth­ers lack the same enthu­si­asm. Out­wardly, Bishkek has turned into a lar­ger city (high-rise build­ings, shop­ping centres, offices, etc.). Some ele­ments have also become more civ­il­ized, which is nice. How­ever, in most cases, there is some neg­li­gence.
For example, there have some rather aggress­ive new devel­op­ments in the city that do not con­sider the cur­rent con­text and primar­ily have money as a motiv­at­ing factor. The prob­lem does not only con­cern short fall­ings in town-plan­ning policies, but also con­cerns a van­ish­ing social con­sensus about com­mon cul­tur­al val­ues; espe­cially with respect to pre­vail­ing urb­an envir­on­ments and their con­nec­tions with private ini­ti­at­ives.