Rafael Var­gas-Suarez, also known as Var­gas-Suarez Uni­ver­sal , is a con­tem­po­rary artist based between New York and, for the last three years, Bishkek. His work, which is based on the visu­al­iza­tion of sci­en­tif­ic and tech­ni­cal data, has been fea­tured in numer­ous muse­ums and gal­leries, and has been the basis of his many col­lab­o­ra­tions with insti­tu­tions, gov­ern­ments and uni­ver­si­ties. Recent­ly he has been explor­ing the his­to­ry of mate­ri­als, from tra­di­tion­al oil paint­ing to exper­i­ment­ing with mate­ri­als typ­i­cal­ly used in space­craft and mate­ri­als sci­ences. This was also the inspi­ra­tion behind his mov­ing to Bishkek: for the past few years he has been learn­ing to work with ancient tex­tile mate­ri­als such as silk and wool. In Kyr­gyzs­tan, he has found the per­fect envi­ron­ment to learn tech­niques and their his­to­ry from local mas­ters, as well as doing exper­i­men­tal work with them.
What orig­i­nal­ly influ­enced you to start using these more tra­di­tion­al materials?
Over the last 15 to 20 years I have been doing a lot of art­work ref­er­enc­ing, for exam­ple, net­works, microchips, visu­al­iza­tion of sci­en­tif­ic phe­nom­e­na and sub­jects relat­ed to the space pro­grams of the US, Rus­sia, the EU, Japan and Cana­da. As I got more aware of com­plex visu­al­iza­tion sys­tems, I start­ed to get more inter­est­ed in com­plex archi­tec­ture, such as microchips. Thus, I decid­ed to go back­wards rather than for­wards to deep­en my under­stand­ing, first to adding machines and punch cards, and then lat­er to car­pets and tex­tiles, silk and wool. These mate­ri­als are the great ances­tors of what we use today as com­put­ers, LCD screens and mobile devices. I start­ed to become inter­est­ed in the ques­tion of how it is that all of these things that are so com­mon­place today came to be. If you look at any car­pet or rug you can see a lin­eage to today's more com­plex elec­tron­ic devices. Going to Cen­tral Asia you actu­al­ly get to access a lot of these tra­di­tions from the crafts­peo­ple and com­mu­ni­ties, whose ances­tors cre­at­ed these com­plex items. The knowl­edge has been passed down the gen­er­a­tions and is still very rel­e­vant there. Com­ing from the US, where I always worked with­in a very con­tem­po­rary and con­cep­tu­al frame­work and mov­ing into those areas of work and research has been real­ly gratifying.
What led you to final­ly decide to move to Cen­tral Asia?
I was com­mis­sioned to make a per­ma­nent art­work for the Amer­i­can Uni­ver­si­ty of Cen­tral Asia. HMA2 Archi­tects are based in New York and had seen my art­work before in a gallery in Man­hat­tan. They approached me to come up with a pro­pos­al for a per­ma­nent art­work, which I pre­sent­ed 1 1/2 months lat­er. Eight months after our first meet­ing we were in Bishkek. We went reg­u­lar­ly for two years to com­plete the work. After fin­ish­ing the com­mis­sion, I realised that I enjoyed work­ing there and that I want­ed to con­tin­ue explor­ing silk and wool as well as all oth­er ancient mate­ri­als and tech­niques, and won­dered how I could inte­grate them in non-tra­di­tion­al man­ners into my work. That is to say, I don't explic­it­ly fol­low west­ern or east­ern tra­di­tions. These mate­ri­als are under­rep­re­sent­ed and under-explored in con­tem­po­rary art – there are some fibre and tex­tile artists that use them but they are usu­al­ly pigeon­holed into a region­al or craft cat­e­go­ry, so I want­ed to real­ly do research and see what I could do with these mate­ri­als in my work.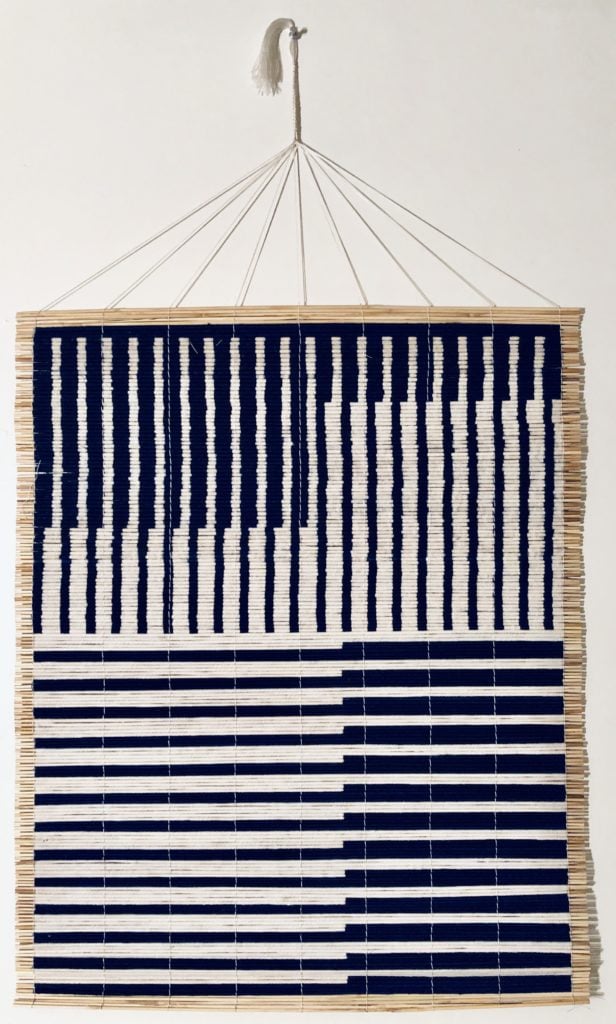 Lis­ten­ing to your com­ments it sounds like you are more close­ly involved with tra­di­tion­al artists in Bishkek rather than the city's con­tem­po­rary art scene – can you com­ment on this?
The 'art scene' in Bishkek is very small, espe­cial­ly in com­par­i­son with New York, where I am based. There are hard­ly any gal­leries or muse­ums in the city, so it couldn't be more dif­fer­ent in terms of the cul­tur­al land­scape and the amount of activ­i­ty going on cre­ative­ly. There are how­ev­er a lot of cre­ative peo­ple in the city, both young and old. I've noticed that they're basi­cal­ly divid­ed between those edu­cat­ed in the Sovi­et sys­tem and those edu­cat­ed after the col­lapse of the Sovi­et Union. The younger artists def­i­nite­ly tend to be more con­cep­tu­al and tech savvy. In gen­er­al, there is how­ev­er still a huge empha­sis on craft and what is called eth­no art, which means tra­di­tion­al Kyr­gyz or Cen­tral Asian motifs, col­ors and mate­ri­als for mak­ing very lucra­tive silk road prod­ucts, which are very touristy. So there is a very vibrant com­mu­ni­ty in with tra­di­tion­al crafts and its markets.
Part of my cre­ative dual­i­ty in Kyr­gyzs­tan is that I asso­ciate with the artists doing super tra­di­tion­al local region­al craft work and then on the oth­er hand I try to be a men­tor to the younger, more con­tem­po­rary, artists, who are incred­i­bly hun­gry for infor­ma­tion from the west and oth­er places. I do how­ev­er make sure to not tell them what to do or how to do it.
Put gen­er­al­ly, it can be said that the whole Cen­tral Asian region is try­ing to bring itself into the new 'west­ern world' whilst at the same time try­ing to main­tain its ancient tra­di­tions. Do you think Cen­tral Asian artists are try­ing to do some­thing sim­i­lar also, by com­bin­ing mod­ern meth­ods with tra­di­tion­al tech­niques, or are you some­what of a pio­neer in this regard?
This is a good ques­tion and indeed is some­thing I ask myself almost every day. You see strict divides between peo­ple doing tra­di­tion­al things and those doing exper­i­men­tal con­tem­po­rary things. For exam­ple, you are almost guar­an­teed to make a liv­ing with tra­di­tion­al crafts – there is a mar­ket there, even a for­eign one (pri­mar­i­ly Amer­i­can) for their local crafts. Because of local poli­cies in Kyr­gyzs­tan, the arti­sans pro­duc­ing such goods are actu­al­ly con­sid­ered small busi­ness­es and are doing real­ly well sell­ing their goods abroad. One thing I have noticed is that these crafts artists are slight­ly frus­trat­ed and often afraid to exper­i­ment, as they fear that they won't be able to make a liv­ing and sus­tain their fam­i­lies if they do so – in effect, they are artists not respect­ed workers.
On the oth­er hand, the more exper­i­men­tal/­con­tem­po­rary-mind­ed artists are very much influ­enced by west­ern, mod­ern, con­tem­po­rary ideas and aes­thet­ics but sad­ly there is very lit­tle oppor­tu­ni­ty there to sus­tain a liv­ing doing that, even as a teacher. They usu­al­ly have to teach stan­dard west­ern art his­to­ry, which is a left­over from the Russ­ian tra­di­tion­al aca­d­e­m­ic teach­ing struc­tures, which are very safe and con­ser­v­a­tive. There is also a con­flict between gen­er­a­tions due to dif­fer­ing ideas and inten­tions: young art stu­dents and old­er tra­di­tion­al pro­fes­sors who were edu­cat­ed dur­ing Sovi­et times are divid­ed. A lot of the younger artists feel frus­trat­ed and can't real­ly do any­thing with the super for­mal train­ing that they get. There is how­ev­er a vari­ety of art col­lec­tives, such as Muse­um­Stu­dio, 705 Group, Kas­malie­va & Djumaliev's ArtEast , Shtab and the very young Lab­o­ra­to­ry Ci. There's even LGBT art col­lec­tives known as SQ and Labrys. The cool thing about Kyr­gyzs­tan is that you can make art work that specif­i­cal­ly is crit­i­cal of polit­i­cal, social, class and racial and eth­nic real­i­ties. It's very impor­tant to be free as an artist anywhere.
A major ques­tion there relates to Kyrgyzstan's iden­ti­ty between the east and west and whether there is an iden­ti­ty cri­sis cre­ative­ly about what it is to be Kyr­gyz. This is def­i­nite­ly an inter­est­ing thing to observe as an out­sider, as a for­eign artist. You see Kyr­gyz artists address­ing these ques­tions, more so than in oth­er coun­tries in the region, where there is a major lack of free­dom of expres­sion. I always explain to young artists in Kyr­gyzs­tan that they are liv­ing in a democ­ra­cy, even if they don't real­ize it. Yes, it's a young coun­try and under­de­vel­oped, but fun­da­men­tal­ly they are young artists in a democ­ra­cy and can express any­thing they want, it's their legal right to do so. This is the real dif­fer­ence between artists in Kyr­gyzs­tan and in Kaza­khstan or Uzbek­istan – in Kyr­gyzs­tan nobody is going to shut you down for crit­i­ciz­ing – peo­ple may tell you not to, but you won't be arrest­ed for it. An even big­ger tragedy in neigh­bour­ing coun­tries is artis­tic self-cen­sor­ship, which is clear­ly a tragedy and leads to arrest­ed devel­op­ment as far as devel­op­ing iden­ti­ty and nation­al cul­ture. This does not mean that crit­i­cal con­tem­po­rary Kyr­gyz artists can sus­tain them­selves, how­ev­er. This entire panora­ma is of course tru­ly inter­est­ing to me as a west­ern artist. I make sure to not step on anyone's toes and I also don't intend to exhib­it or sell my art there, as I'm very sen­si­tive that I am a for­eign­er and mere­ly observ­ing from the cul­tur­al side lines while I pro­duce my work there.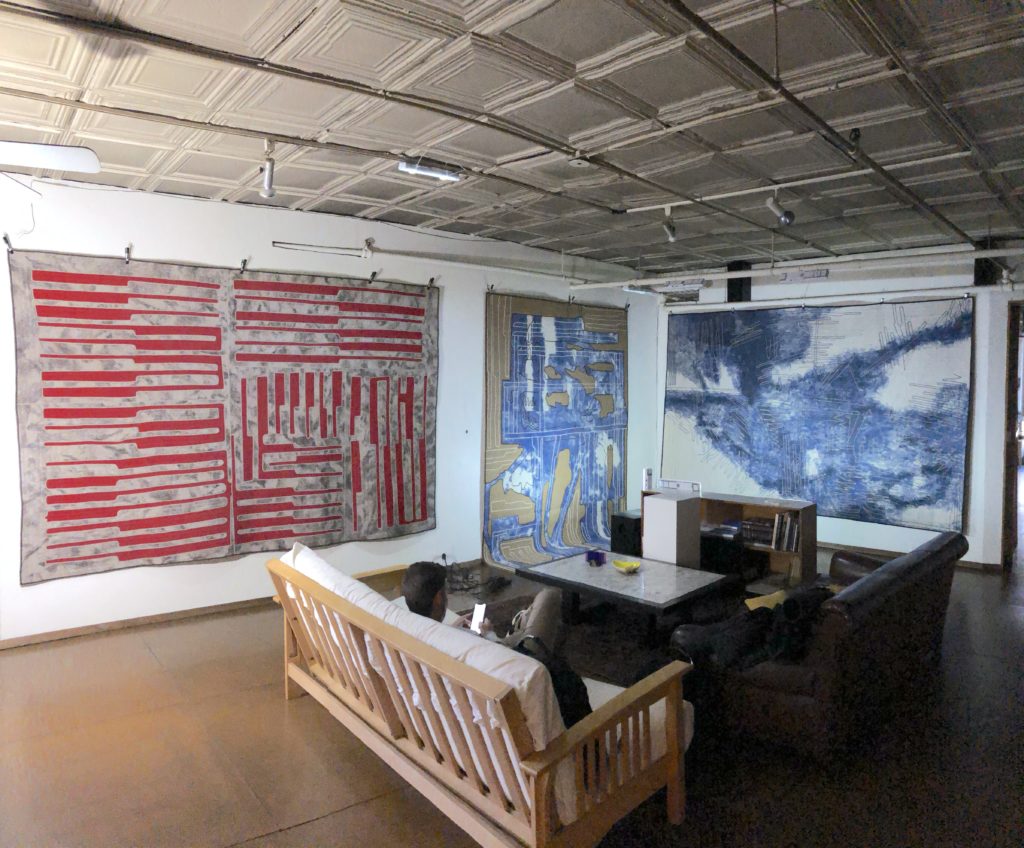 Let's car­ry on with that point. You are a for­eign­er and are try­ing to enact a change in Bishkek and the wider region's art scene. Has this been dif­fi­cult for you in terms of get­ting con­tacts or local cred­i­bil­i­ty or has there been a gen­er­al accep­tance and will­ing­ness to learn?
There are many chal­lenges in Kyr­gyzs­tan – the pri­ma­ry one being the lan­guage bar­ri­er, as I am still try­ing to learn Russ­ian and only under­stand very basic Kyr­gyz. There are how­ev­er lots of young cre­ative peo­ple that speak Eng­lish, as a few have been edu­cat­ed abroad. Over­all, in Bishkek, I can also get by with my lim­it­ed Russ­ian – I have an assis­tant to help me, how­ev­er. Anoth­er chal­lenge is that peo­ple there are often very inse­cure, espe­cial­ly young artists, as they come from very tra­di­tion­al and con­ser­v­a­tive fam­i­lies, which means the idea of being an artist is frowned upon, and there is very lit­tle under­stand­ing of it, which is the oppo­site of my back­ground, where the sys­tem I grew up in fos­tered and sup­port­ed the idea of being a play­er in a cul­tur­al land­scape. It hap­pens fre­quent­ly that I have to explain and basi­cal­ly define what I do, as peo­ple there often don't ful­ly under­stand it, which was quite sur­pris­ing to me. More often than not, peo­ple in Cen­tral Asia are quite sur­prised that I make my liv­ing as an artist.
I have start­ed to hire assis­tants, most­ly younger artists that are not sus­tain­ing them­selves with their art. We often have great con­ver­sa­tions in the stu­dio about lots of top­ics and they do tend to get a lot of con­fi­dence when I tell them how it is that I got to become an artist and what my vision is for the future. They are not used to peo­ple being so open and gen­er­ous and so they are very sur­prised and ulti­mate­ly appre­cia­tive when some­one opens up and gives them advice. Unfor­tu­nate­ly jeal­ousy, ter­ri­to­ri­al­i­ty and a trib­al men­tal­i­ty are quite com­mon, which can clear­ly be detri­men­tal to their progression.
As far as break­ing into the scene, it should be not­ed that there isn't real­ly one. I'm also mind­ful of the fact that I'm just there to pro­duce, to do my work there and then it gets export­ed back to the US. Peo­ple often ask me when I'm going to do a show there but I don't have any plans for that and I don't think local cura­tors intend for that to hap­pen either. At the start of my project at AUCA, I felt a jeal­ous ener­gy around me by some of the local old­er artists, as they saw the project there as a great oppor­tu­ni­ty that was tak­en away from them by a for­eign artist. How­ev­er, one of the objec­tives of the pub­lic art ini­tia­tive, was to bring an artist from the US to do some­thing there. There were peo­ple com­plain­ing at the start so the archi­tects and pres­i­dent of the uni­ver­si­ty decid­ed that it would be a good idea for me to col­lab­o­rate with a local artist on the project, so I chose to col­lab­o­rate with Dil­bar Ashim­bae­va, of Dil­bar Fash­ion House. She is the most respect­ed fash­ion design­er from Cen­tral Asia. She edu­cat­ed me about silks, embroi­dery, fab­rics and real­ly gave me a crash course on how to work with silk for my art. She is a mas­ter and has trav­elled all over the world to do her work. At the same time, I edu­cat­ed her a lot on con­tem­po­rary art, con­cep­tu­al art and instal­la­tion art, so it became a great cre­ative part­ner­ship. We even became great friends and have even made some silk paint­ings togeth­er more recently.
Over­all, Kyr­gyzs­tan is a place of pro­duc­tion for me though. I have learned so much there, not just about Kyr­gyzs­tan and its art but also about myself and the artis­tic tra­di­tions that formed me. More and more I feel that it's a place I can con­tribute to more as a men­tor or edu­ca­tor. Last year the Amer­i­can embassy and sev­er­al NGOs have asked me to help devel­op art edu­ca­tion pro­grammes for the pub­lic and for chil­dren. I always say 'yes, absolute­ly' to any pos­si­bil­i­ty with arts relat­ed edu­ca­tion. I find it incred­i­bly impor­tant and ear­ly edu­ca­tion is how real impact­ful change happens.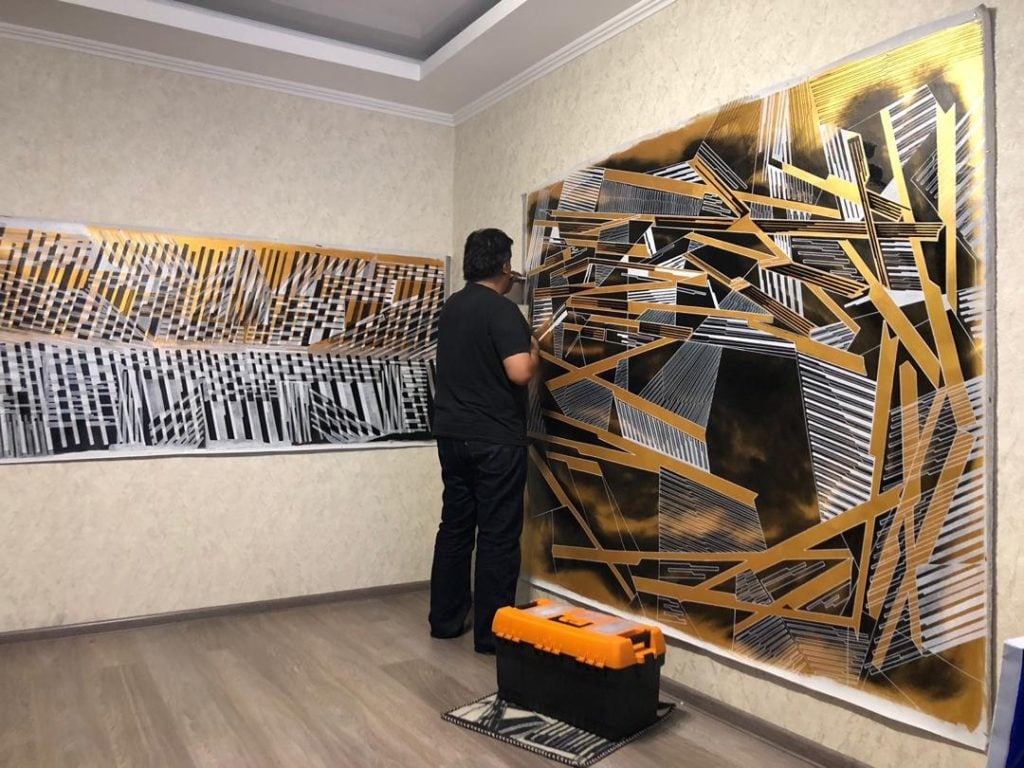 Are you the only for­eign artist in Kyr­gyzs­tan with a focus on production?
As far as I know, there are few­er than a dozen for­eign artists that have tak­en up space and worked there, while a few oth­ers are tem­porar­i­ly work­ing there with an NGO or embassy. From what peo­ple tell me, I'm the most involved for­eign artist ever so far! I have a stu­dio in the moun­tains of the South­ern shores of Lake Issyk Kul and one in the cen­ter of Bishkek, so I am very embed­ded. I've made many friends and have start­ed to hire peo­ple now so I am now learn­ing who does what and such. I am still more embed­ded in New York but I'm firm­ly set­ting roots in Bishkek too. I like that there are no dis­trac­tions in Kyr­gyzs­tan, so I can be real­ly focused and work long hours in the stu­dio. I can do so in New York too, but there are so many more dis­trac­tions and inter­rup­tions. Sur­pris­ing­ly, Bishkek can be a lit­tle busy and and hec­tic too, but in gen­er­al I get a lot of stu­dio work time, so I feel real­ly sat­is­fied there. I tend to be focused wher­ev­er I go, but I'm espe­cial­ly pro­duc­tive in Bishkek and at Lake Issyk Kul.
Do you want to stay there for a longer time or do you have a set date for when you want to ful­ly return to the States?
Right now I'm actu­al­ly in the US but I did just spend 6 months in Kyr­gyzs­tan, and did the year before also, so I'm cur­rent­ly doing half-half. I don't have a spe­cif­ic plan and tend to be some­one that goes with the flow. As long as I can pro­duce there and don't run into prob­lems I can con­tin­ue there. I'm lucky that I can work any­where, as I think most artists can't, after they get set into one way of work­ing. Because of the nature of my work, I'm always look­ing for new mate­ri­als, new ideas, new con­cepts, research and trav­el, which is clear­ly helped by my innate abil­i­ty to be able to shift modes and adapt to almost any­where so far. I nev­er actu­al­ly imag­ined that I would spend very much time in Bishkek or even hav­ing stu­dios there at all, but the AUCA project showed me that I could work there. I still have some projects I want to do there, such as design­ing my own yurt, mak­ing car­pets with tra­di­tion­al mate­ri­als, using the Shyr­dak and Ala-Kiy­iz tech­niques for wool.
Your work is pri­mar­i­ly at the inter­sec­tion of aeronautics/astronomy and art – is this some­thing you are still doing in Cen­tral Asia or has your focus shift­ed since you start­ed using more region­al materials?
You're ask­ing real­ly good ques­tions, relat­ed to things I think about all the time. As far as the images and result­ing art­works that I'm mak­ing there and here in the US, I am still very much con­nect­ed to this idea of spa­tial move­ment, as well as astro­nom­i­cal charts and microchips. I've also shift­ed my atten­tion from NASA to Roscos­mos, the Russ­ian space pro­gramme, whose launch facil­i­ties are locat­ed in Kaza­khstan. It is an inter­est­ing con­trast to see this rock­et infra­struc­ture in the mid­dle of Kaza­khstan with camels and peo­ple in tra­di­tion­al Cen­tral Asian dress. So yeah I can say that a lot of my work is still very much relat­ed to geo­met­ric abstrac­tion, and sci­en­tif­ic visu­al­iza­tion. I don't know how much my work can change the­mat­i­cal­ly or if there is an ori­en­tal­ist or silk road influ­ence in my art. I think the influ­ence is pure­ly mate­r­i­al so far, rather than con­cep­tu­al. One of the inter­est­ing things about doing the work I do there is the way peo­ple react to it – they asso­ciate it a lot with Russ­ian con­struc­tivism and pure mod­ernist art, which means they aren't so con­fused by it, and more impor­tant­ly, I'm not con­fus­ing myself with it.
So you have been going to Bishkek fair­ly reg­u­lar­ly for the last 4 and a half years. How much do you think the city has changed or mod­ernised in that time, in terms of its cre­ative scene and how peo­ple view their city, coun­try and future?
There are def­i­nite­ly many changes to observe and live with. Almost every day in Kyr­gyzs­tan, I see a new idea or project that peo­ple real­ly grav­i­tate towards or are very curi­ous about. There's a lot of poten­tial, as well as smart young peo­ple who are real­ly hun­gry for new ideas and new things. At the same time they are still hold­ing on to their very tra­di­tion­al val­ues so I feel that Kyr­gyzs­tan is cul­tur­al­ly torn between con­flict­ing cul­tur­al visions of their future. I believe there are three main camps: those that main­tain a tra­di­tion­al Kyr­gyz struc­ture infused with con­ser­v­a­tive Islam­ic ways of life and tra­di­tions, those that are attract­ed to Russ­ian cul­ture, lan­guage, men­tal­i­ty, and with a lot of nos­tal­gia for Sovi­et times; and the camp I am asso­ci­at­ed with social­ly, is glob­al­ly mind­ed and grav­i­tat­ing to new, pro­gres­sive ideas and devel­op­ing culture.
I do see a lot of change in gen­er­al though, and it tends to hap­pen at an increas­ing­ly rapid rate. You also see things that prob­a­bly won't change, espe­cial­ly when you're out­side of Bishkek. Out­side of the cap­i­tal, you're not going to see the change, amount of change or rate of change. It's inter­est­ing because there's a kind of iden­ti­ty cri­sis – peo­ple want to be con­tem­po­rary and up to the minute but are held back by very strong tra­di­tions, so it's quite a dynam­ic to see as a foreigner.
Do you see these three camps as split along gen­er­a­tional lines or does every­one have all three inter­nalised in them to greater or less­er extents?
It's most­ly gen­er­a­tional but then from time to time we're sur­prised – by "we're" I am refer­ring to us few for­eign­ers. For exam­ple, there is a huge empha­sis on get­ting mar­ried as young as pos­si­ble, even, at times, in more seem­ing­ly pro­gres­sive cir­cles. So you do see peo­ple whom you think are liv­ing their lives in some sort of anti-estab­lish­ment direc­tion with their lifestyle and beliefs, and then sud­den­ly they're mar­ried and wear­ing the hijab and liv­ing a super con­ser­v­a­tive Mus­lim way of life and then that's it. They had their fun, they had their chance, they had their for­eign friends and were liv­ing their west­ern val­ues and then all of a sud­den it's just cut off. That's some­thing I've seen more and more in the last few years and I'm like 'wow, what a shift', one minute you're a fem­i­nist and the next moment you're mar­ried, either by choice, fam­i­ly or tra­di­tion, and there's no going back. It's not some­thing one sees with­in the eth­nic Russ­ian pop­u­la­tion. There is def­i­nite­ly a mas­sive empha­sis to mar­ry ear­ly, in com­par­i­son with the west at least, and this means that the divorce rate is very high, so I ques­tion the rapid pace of such major deci­sions being made. I don't judge but I def­i­nite­ly ques­tion them there.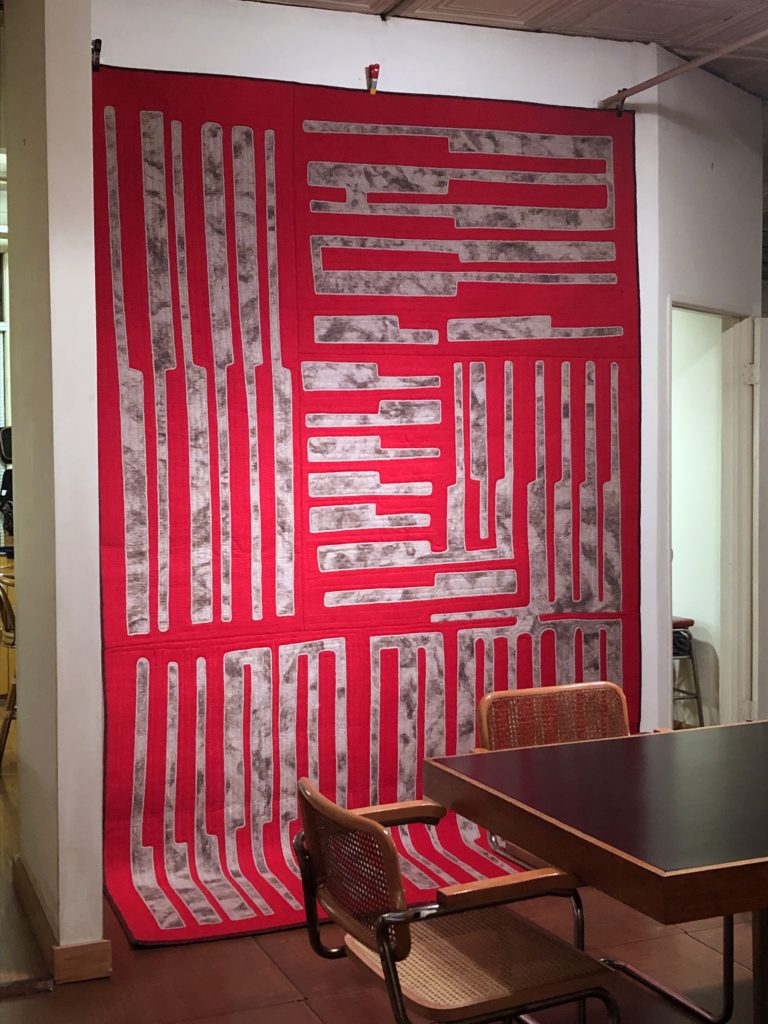 In which direc­tion do you see the coun­try head­ing? Is the dom­i­nant move­ment towards lib­er­al­i­sa­tion and democ­ra­ti­sa­tion or do you think the more tra­di­tion­al cul­ture is start­ing to claw its way back in?
That's some­thing else we all talk about all the time. I have a lot of con­ver­sa­tions with peo­ple from the US embassy and dif­fer­ent NGOs, amongst oth­ers, about these trends and socio-cul­tur­al dynam­ics. Every­body knows that this is a very small devel­op­ing inter­est­ing coun­try that is fun­da­men­tal­ly a democ­ra­cy. Evi­dent­ly, the last elec­tions and the non-vio­lent trans­fer of pow­er caused for­eign gov­ern­ment to send some of their diplo­mat­ic rep­re­sen­ta­tives to con­grat­u­late the new Kyr­gyz Pres­i­dent and his admin­is­tra­tion. I think the main chal­lenge for Kyr­gyzs­tan at the moment is to stop expect­ing hand­outs, and I mean that from the top lev­els all the way down. There also needs to be a greater sense of own­er­ship, where peo­ple com­mit to pro­tect­ing what is theirs.
I feel Kyr­gyzs­tan is going in the right direc­tion but there's going to be a lot of aches and pains along the way. I also think a lot of ear­ly edu­ca­tion is need­ed – not just in schools but also at home, as that's where all edu­ca­tion starts. So I think in anoth­er gen­er­a­tion or so it's going to be a real­ly inter­est­ing place in terms of social stan­dards. I always tell young peo­ple that there is no rea­son why their coun­try can't become sim­i­lar to Switzer­land or South Korea. I always use the exam­ple of South Korea, a coun­try with very lim­it­ed nat­ur­al resources that has pro­gressed so much in the last few decades, main­ly due to changes in edu­ca­tion, atti­tude and pol­i­cy to ben­e­fit its peo­ple. It is also impor­tant to note that the Kyr­gyz gov­ern­ment is sec­u­lar and that they're real­ly against the grow­ing Islami­sa­tion of the coun­try, so there cer­tain­ly is a big divide between the sec­u­lar and Mus­lim pop­u­la­tions, which goes all the way up to gov­ern­ment. Kyr­gyzs­tan has this same poten­tial as any devel­oped coun­try, but it will take a while and it won't be easy. Noth­ing good is easy, you need com­mit­ment at all levels.
Do you have any final com­ments with respect to your work or Kyr­gyz society?

Most peo­ple I speak to out­side of Kyr­gyzs­tan haven't heard of the coun­try when I tell them that I've been work­ing there – many also hear Kur­dis­tan, which is obvi­ous­ly very dif­fer­ent, so I always have to explain where it is and that it's not a dan­ger­ous place, that it's the only democ­ra­cy in its region, with free and open inter­net and so on. In a way I'm not just try­ing to encour­age Kyr­gyz peo­ple to look into them­selves, to look around, to look beyond their bor­ders, but also peo­ple in the States and else­where, that Kyr­gyzs­tan and Cen­tral Asia are impor­tant and valu­able parts of the world. Grow­ing up in the US dur­ing the Cold War and after the col­lapse of the Sovi­et Union we knew noth­ing about the region and it's def­i­nite­ly worth know­ing about. It has a real­ly inter­est­ing his­to­ry, with the silk road, nomadic cul­tures and its vibrant mix of eth­nic­i­ties and lan­guages. I have met peo­ple there that did ethno­graph­ic stud­ies and anthro­po­log­i­cal research dur­ing the Sovi­et times and that found Cen­tral Asian con­nec­tions to Native Amer­i­can migra­tions. These con­nec­tions actu­al­ly exist through­out Cen­tral Asia, East Yaku­tia and East­ern Siberia. You see these con­nec­tions in art, archi­tec­ture, food, lit­er­a­ture, and even in the tex­tiles and fab­rics used in these regions. Some­times I see tex­tiles that look Peru­vian, Mex­i­can or Nava­jo. There are many links that both sides are not very aware of yet. Art is a very pow­er­ful tool for any­one look­ing to con­nect these dots. it's both a great oppor­tu­ni­ty and a priv­i­lege to be able to serve such a purpose.